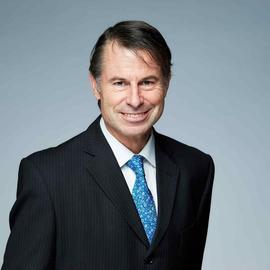 "It comes down to patient centricity – putting patients at the center of the clinical research enterprise. Here's my message: get involved, get committed. If all of us participate in just one clinical study, it would make a huge, significant difference in speeding up the development timelines. We hear so much about the negative aspects but there is so much good being done."
Following several years of persistent right foot stiffness and a moderate right hand tremor, at the age of 49 Peter was diagnosed as having symptoms "suggestive" of early onset Parkinson's Disease (EOPD). Despite his disbelief and denial of how this could be happening, particularly after competing in literally hundreds of triathlons (including the Iron Man), marathons and adventure races over the past 30 years. with encouragement from his wife Vicky, they both signed up for Team Fox's fund-raising opportunity on behalf of entry into the New York City marathon. This led to yet another NYC marathon and culminated with the summitting of Mount Kilimanjaro; all while raising vital funds for continued PD research and development.
The additional irony is that Peter's chosen career path was research and development operations which gave new meaning to his professional endeavors. In summary Peter has distinguished himself as a clinical development professional with a strategic focus in leading global operations that support the optimization of bio-pharmaceutical research and investigator relationships. Currently a Sr. VP of Clinical Solutions and Strategic Partnerships at WCG Clinical and he is additionally qualified having experience as both a sponsor (Pfizer, Shire, Vertex) and a CRO service provider (IQVIA). Peter is a champion for efforts to educate the public regarding the perception of clinical research and is a policy advocate for The Michael J. Fox Foundation.
He soon realized the best way to get involved was to contribute however possible and there was no such thing as being too little to make a difference in finding a cure.
"It comes down to patient centricity – putting patients at the center of the clinical research enterprise. Here's my message: get involved, get committed. If all of us participate in just one clinical study, it would make a huge, significant difference in speeding up the development timelines. We hear so much about the negative aspects but there is so much good being done."