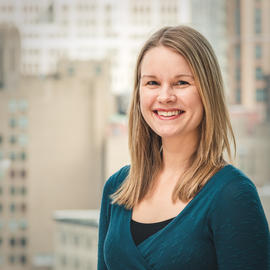 Rachel Dolhun, a board-certified neurologist with a subspecialty in Movement Disorders, joined The Michael J. Fox Foundation in October 2014.
Within the Communications team, Rachel's focus is on providing tools and resources to help people with Parkinson's make sense of current treatment options and therapies in development, as well as learn more about the critical role they (and often, only they) can play in drug development research. With her medical expertise and years of training and clinical experience, Rachel is uniquely positioned to help the Foundation mobilize greater research engagement on both individual and community levels.
Rachel attended The University of San Diego and obtained her medical degree from Wake Forest University School of Medicine in Winston-Salem, North Carolina. She completed Neurology Residency and Movement Disorders Fellowship at Vanderbilt University Medical Center in Nashville, Tennessee. She then entered private practice in Charlotte, North Carolina where she worked for four years. She thoroughly enjoyed her daily patient encounters, but her interest in Parkinson's disease and desire to reach the community on a broader scale led her to MJFF.
In her spare time, Rachel enjoys traveling, especially to visit family in Wisconsin, exercising, reading (memoirs are a favorite genre) and baking.
Recent Articles by Rachel Dolhun, MD
Ask the MD: Build Connections to Ease Loneliness and Take Control in Parkinson's

---