Rachel Dolhun, MD, DipABLM
Senior Vice President • Medical Communications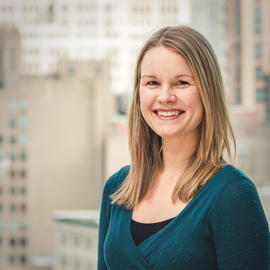 Rachel Dolhun, a double-board-certified neurology and lifestyle medicine physician and fellowship-trained movement disorder specialist, joined The Michael J. Fox Foundation in 2014 to lead medical communications.
Using her medical expertise and years of clinical training and experience, she creates tools and resources, including the Ask the MD series of blogs and videos, guides for living as well as possible with the disease, and Parkinson's 360 and other in-depth publications, to help people and families navigate their lives with Parkinson's and understand their critical role in advancing research. She also serves as an expert spokesperson and thought leader, helping to distill complex medical topics for press interviews, global conferences and community events. And she educates and engages the next generation of Parkinson's doctors through programs designed to stimulate interest in movement disorder careers and fund necessary training.
Rachel graduated from The University of San Diego with a B.S. in biology; obtained her medical degree from Wake Forest School of Medicine in Winston-Salem, North Carolina; and completed neurology residency and movement disorders fellowship at Vanderbilt University in Nashville, Tennessee. She then entered private practice in Charlotte, North Carolina. Rachel thoroughly enjoyed her daily patient encounters but focus on people and families with Parkinson's disease and desire to reach the community on a broader scale led her to The Michael J. Foundation.
Motivated to understand and deliver additional tools to empower people at all points in their brain health or Parkinson's disease journey, in 2022, Dolhun achieved a second board-certification in lifestyle medicine. Lifestyle medicine aims to optimize six key aspects of a person's life — exercise, diet, sleep, stress management, social connections, and avoidance of harmful substances, like tobacco — to treat, prevent and even reverse disease.
When she's not traveling — favorite locations include Austria, New Zealand and Peru — you can find Rachel planning her next trip; spending time with her dog, Raleigh; reading a book; or running with the goal of completing another half or her first full marathon in November 2023.