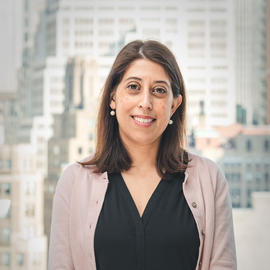 Sohini joined The Michael J. Fox Foundation in 2005. As Chief Program Officer, Sohini oversees the entire research programmatic enterprise, and works closely with the Foundation's executive leadership and Board of Directors in building the organization's capacity as an unprecedented stakeholder in drug development — a nimble, resourceful, patient-focused problem-solver whose efforts are demonstrably accelerating progress toward treatment breakthroughs and a cure. Since 2017, Sohini served in the role of Deputy CEO and expanded her responsibilities as Head of Research, steering the Foundation's grant funding and research programs in 2021.
In her previous capacity as SVP, Research at the Foundation, Sohini established and led the formal industry strategy, building ongoing relationships with pharmaceutical firms and biotechs as research partners and as sponsors of the Foundation's scientific and educational programs. She has led development of programs critical to increasing patient engagement in Parkinson's research including the Fox Trial Finder smart-match tool and Fox Insight. Sohini also is responsible for administrative and operational oversight of the MJFF-sponsored landmark clinical study PPMI, or the Parkinson's Progression Markers Initiative (PPMI). Launched by MJFF in 2010 to identify and validate Parkinson's biomarkers, PPMI entered it a next ambitious phase in 2021: enrolling even more people with and without Parkinson's and amplifying the community voice in search of a cure.
Prior to joining MJFF, Sohini worked at the World Economic Forum for five years. As the Senior Community Manager of the Forum's Technology Pioneers program, she was responsible for annually selecting and integrating innovative biotech, energy and IT technology companies into Forum activities. Sohini also worked directly for the Forum's CEO, acting as his liaison with key Forum stakeholders and overseeing several in-house projects.
Sohini graduated with an MA from Georgetown University and holds a BA in International Studies from Vassar College.