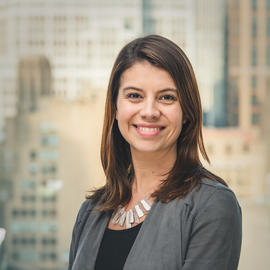 Vanessa Arnedo joined The Michael J. Fox Foundation in April 2013. As Chief of Staff to the CEO, Vanessa Arnedo collaboratively drives business strategy & processes while maximizing CEO effectiveness. She leads high-priority initiatives that require cross-functional executive facilitation, including the elevation of the Foundation's strategy to increase diversity, equity, and inclusivity to support our mission. She also serves as liaison to the Board of Directors.
Prior to serving as Chief of Staff, Vanessa held several leadership roles at MJFF focused on the Foundation's research and program strategy. In these roles, she successfully led cross-functional teams that accelerated the operations of MJFF-sponsored clinical studies and participant recruitment.
Before joining MJFF, Vanessa worked at the State University of New York at Downstate Medical Center as a Research Support Specialist for the Department of Neurology, as well as a Research Project Coordinator at the NYU Comprehensive Epilepsy Center. Vanessa graduated with an MPH in Epidemiology from the Mailman School of Public Health of Columbia University and holds a BA in Sociology and Pre-Medical Studies from New York University.