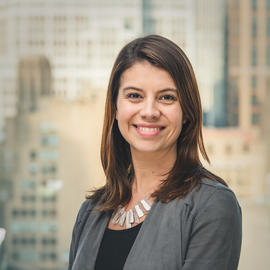 Vanessa Arnedo joined The Michael J. Fox Foundation in April 2013. In her current role, Vanessa is responsible for the project management and development of recruitment and retention strategies for MJFF's observational cohort studies, including the Parkinson's Progression Markers Initiative (PPMI), a landmark clinical biomarker study.
Prior to joining MJFF, Vanessa worked at the State University of New York at Downstate Medical Center for almost three years. As a Research Support Specialist for the Department of Neurology, she managed recruitment and clinical trial operations for several multi-center studies and served as project manager for the NeuroNEXT clinical trials consortium for the State University of New York medical center campuses. Vanessa also worked at the NYU Comprehensive Epilepsy Center for over two years as a Research Project Coordinator.
Vanessa graduated with an MPH in Epidemiology from the Mailman School of Public Health of Columbia University and holds a BA in Sociology from New York University.