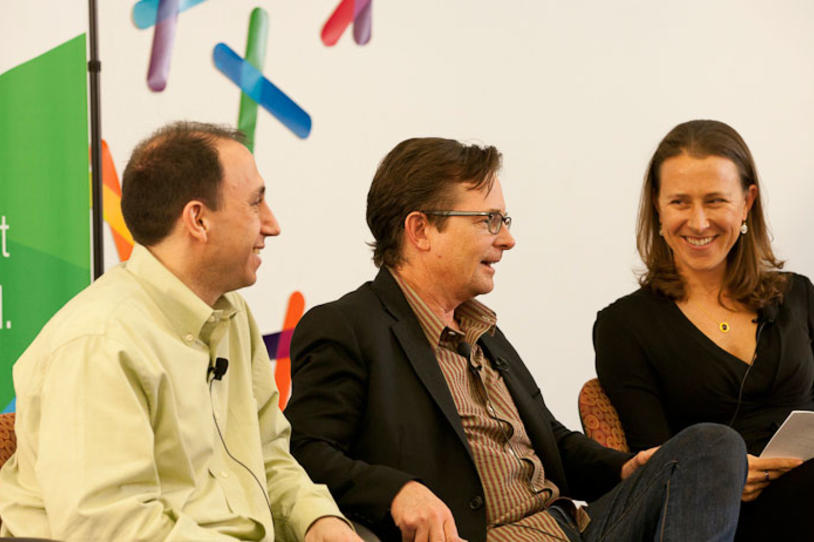 Today, Bloomberg Businessweek featured Sergey Brin's investment in Parkinson's disease (PD) research, highlighting his transformative support of The Michael J. Fox Foundation (MJFF), and the work being done at 23andMe, the personal genetics company founded by his wife, Anne Wojcicki.
The article highlights new investments in research targeting LRRK2, the greatest known genetic contributor to PD. Brin has been a leader in engaging a broader campaign in Parkinson's research, partnering with MJFF to develop an innovative model in a space that needed it. Now researchers from across academia and industry combine resources with scientists from major pharmaceutical companies, in a "Manhattan Project" to devise drugs against LRRK2. The piece chronicles the innovative partnership between Brin and MJFF:
When the Fox Foundation's (Co-founder Debi) Brooks was contacted, she visited Brin at Google's headquarters with a suggestion: Why not create a Manhattan Project to devise drugs against LRRK2?

Brin signed on with a $20 million donation, $15 million designated for LRRK2, and has been the main sponsor on the Fox Foundation's LRRK2 effort since. Last year, Brin and Wojcicki pledged to match any further new donations up to $50 million, with half the money directly targeted for research into LRRK2.

The Fox Foundation directly funds Pfizer and GlaxoSmithKline to do LRRK2 drug research. A larger group of industry advisers, including scientists from Pfizer, Glaxo, Lilly and Elan Corp. (ELN), holds regular calls to discuss roadblocks toward making LRRK2 drugs that researchers could help solve.

The collaboration helps share the risk of drug discovery and gives Pfizer access to a worldwide network of experts on LRRK2, said Michael Ehlers, chief scientific officer for Pfizer's neuroscience research, in a telephone interview.
Genetic testing has indicated that Brin, who has Parkinson's in his family, has the LRRK2 mutation, and is therefore at higher risk of developing the disease. "While LRRK2 is directly responsible for 1 or 2 percent of Parkinson's cases," explains one scientist in the article, "the research 'could have implications for the vast majority of Parkinson's patients.'"
Read the entire article, and learn more about the $50-million Brin Wojcicki Challenge and MJFF's innovative LRRK2 approach here.