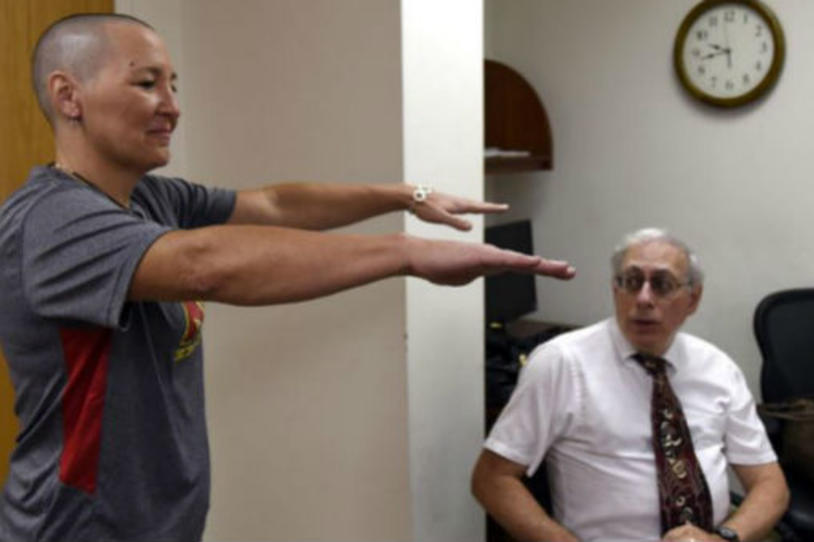 Early this month MJFF-funded researchers announced the first U.S. patients have received focused ultrasound treatment for dyskinesia with Parkinson's disease (PD), providing more information about this alternative approach to managing PD.
This therapy is part of an international clinical trial, supported by The Michael J. Fox Foundation and the Focused Ultrasound Foundation, that seeks to alleviate dyskinesia caused by long-term use of levodopa, a drug commonly used to treat PD. Dyskinesias are involuntary, uncontrollable movements different from the rhythmic tremors commonly associated with PD.
The trial is taking place at the University of Maryland and the University of Virginia. During the noninvasive procedure, researchers use an MRI (magnetic resonance imaging) machine to view images of a patient's brain in real time while focusing more than 1,000 intersecting beams of ultrasound energy on specific tissue. The ultrasound energy heats and destroys abnormal cells associated with dyskinesia without harming adjacent tissue. No surgery, anesthesia or incisions are required, decreasing the risk of infection, hemorrhage, blot clots and accidental tissue damage.
An important note: While the focused ultrasound procedure requires no surgery and is more easily tolerated than alternatives such as deep brain stimulation, it is irreversible.
Kimberly Spletter was one of the first to undergo the procedure. Diagnosed with Parkinson's at age 44, she completed focused ultrasound treatment earlier this month at the University of Maryland.
Here she shares her decision to enroll in the study, an account of the experience and the effects of the therapy:
I was interested in the trial because I'm an active and athletic person, and all of that was disappearing before my eyes. I couldn't walk for any distance; I couldn't run. I was having trouble dressing myself. All of my joints hurt, and my dyskinesia was extreme and painful. I had lost my depth perception and couldn't sleep. The support and thoughts from my friends and family and the guidance from my doctors made me feel at ease with my decision to have the procedure.
I shaved my head for the treatment and was attached to the MRI table with a head frame, which kept me from moving during the procedure. The frame didn't hurt, but I did feel a lot of pressure. A cooling cap was placed on my head that circulated ice cold water on my scalp to keep my temperature down. When the ultrasound waves are applied you get a feeling of intense heat (the temperature of the waves is 140 degrees Fahrenheit), but no real pain. 
I had a total of 14 "sonications" over a few hours. After the 11th treatment, I was already back to 70 percent strength on my left side. My only temporary side effect is a headache, which is to be expected. 
This procedure has turned back the clock for me and given me a new lease on life. I'm going to take full advantage of my newfound freedom. I went on a three-mile walk; I completed a one-mile run; and I have been riding my bike. I was recently certified to teach a Pedaling for Parkinson's class — an indoor cycling class specifically designed for people with Parkinson's — which I'm very passionate about. I'm the first instructor who actually has Parkinson's. I feel such a connection to my participants because I know exactly what they're going through. I feel full of life, and I appreciate my second chance.
I would recommend this procedure to anyone who qualifies. It's my dream to let people know there is hope and spread the word that we need to participate in clinical trials so we can find a cure. Keep moving forward; stay positive. 
These results suggest that MRI-guided ultrasound may be an effective treatment for people with Parkinson's who have failed medical therapy or who have severe medication-induced dyskinesia. However, more information is needed before researchers fully understand this therapy and its long-term effects.
Researchers will study a total of 40 participants in the clinical trial. Seven patients in Korea and one in Canada have already undergone treatment. Eligible study participants include PD patients whose dyskinesia cannot be controlled with medication and who cannot, or choose not to, undergo surgery. Patients should be aware that the procedure cannot be reversed and should thoroughly discuss all options with their physician.
Learn more about participating in this clinical trial.
The Focused Ultrasound Foundation is also funding a clinical trial to test this treatment method in Parkinson's patients with severe tremor.
Watch a webinar on neuromodulation techniques including focused ultrasound.