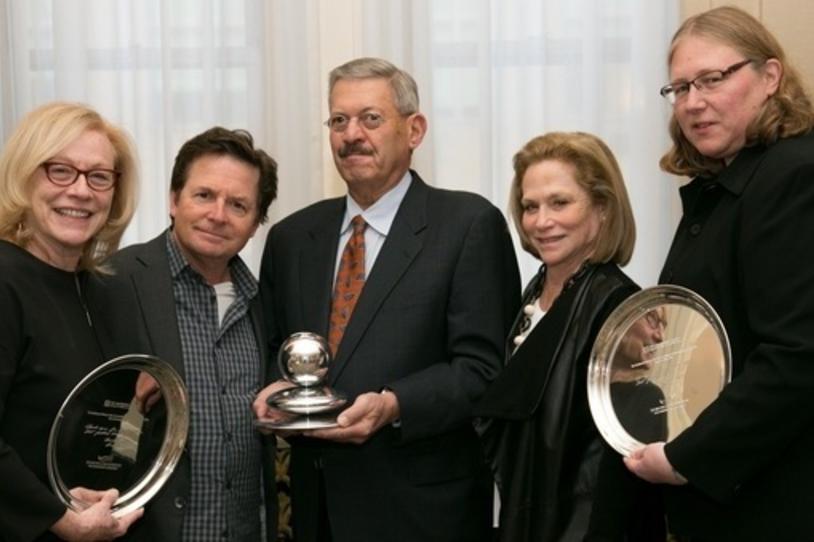 The Michael J. Fox Foundation recognized three researchers for their groundbreaking work in advancing Parkinson's and dystonia research at a ceremony held November 12, 2016 in New York.
Susan Bressman, MD, chair of the Department of Neurology at Mount Sinai Beth Israel, and Laurie Ozelius, PhD, associate neuroscientist and associate professor of neurology at Massachusetts General Hospital and Harvard Medical School, are recipients of the second annual Bachmann-Strauss Prize for Excellence in Dystonia Research. The prize acknowledges researchers for key scientific discoveries in dystonia, the third most common movement disorder affecting 500,000 adults and children in North America.
Drs. Bressman and Ozelius, who have collaborated for 30 years, were chosen for their work in dystonia genetics. Together, their research has led to the identification of three primary or isolated dystonia genes, and they have built a repository of thousands of genes associated with dystonia. Their work also has yielded innovative imaging studies in families with these genetic associations. Each received an unrestricted research grant of $50,000, to further their research.
Ira Shoulson, MD, professor of neurology, pharmacology and human science and director of the Program for Regulatory Science and Medicine at Georgetown University Medical Center, received the Robert A. Pritzker Prize for Leadership in Parkinson's Research. The Pritzker Prize has been awarded annually since 2011 by MJFF to recognize researchers who make an exceptional contribution to Parkinson's research and exhibit a commitment to mentoring the next generation of Parkinson's scientists.
Dr. Shoulson is a leader in the fields of Huntington's and Parkinson's disease research, he co-founded the Parkinson Study Group in 1985 and the Huntington Study Group in 1994, two international academic consortia devoted to research and development of treatments. He has also made key contributions to regulatory science and medicine and was formerly a Joseph P. Kennedy Jr. Foundation health policy fellow in the U.S. Senate. Dr. Shoulson will receive a $100,000 grant, which he will direct toward advancing research on Parkinson's patient-reported outcomes and patient preferences.
The prizes were conferred by Michael J. Fox, who thanked all the prize recipients, noting "the breakthroughs you've enabled are transforming lives."
The Bachmann-Strauss Prize for Excellence in Dystonia Research was established in September 2014 with a leadership commitment from the Bachmann-Strauss Dystonia and Parkinson Foundation (BSDPF). The alliance between MJFF and BSDPF builds on a 10-year working relationship between the foundations. This major dystonia research prize broadens public awareness and recognizes key scientific discoveries in dystonia.
The Robert A. Pritzker Prize for Leadership in Parkinson's Research is made possible by Karen Pritzker, daughter of Robert A. Pritzker, and her husband, investor Michael Vlock. The prize is named in honor of the late Robert A. Pritzker, a renowned industrialist, entrepreneur and philanthropist. The award is designed by renowned artist and Parkinson's patient Tom Shannon.
Watch this video to hear from the prize recipients and learn more about their work.