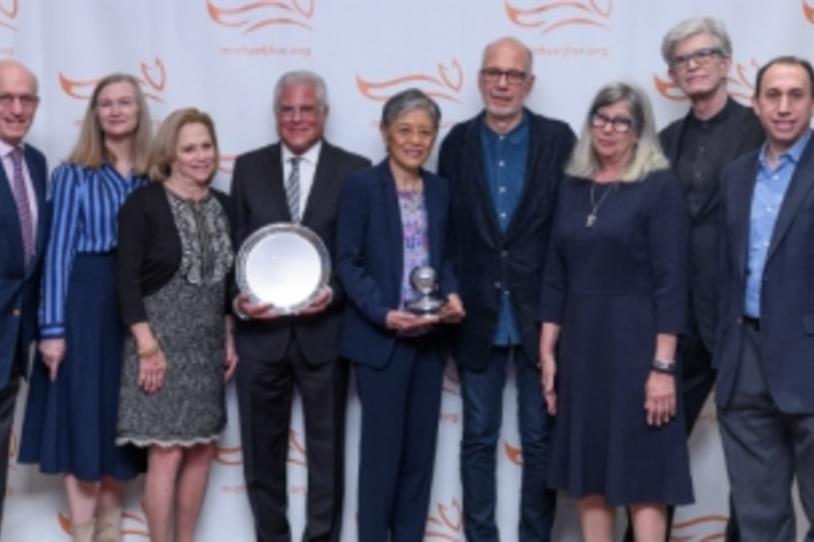 The Michael J. Fox Foundation for Parkinson's Research (MJFF) honored two researchers for their groundbreaking work to speed critical advances in Parkinson's disease and dystonia research on November 10, 2018, in New York City.
David Eidelberg, MD, professor and head of the Feinstein Institute for Medical Research's Center for Neurosciences and professor of Molecular Medicine and Neurology at the Donald and Barbara Zucker School of Medicine at Hofstra/Northwell, was awarded the fourth annual Bachmann-Strauss Prize for Excellence in Dystonia Research. The prize recognizes dystonia researchers for key scientific discoveries and incentivizes the next generation of investigators to continue forging paths toward cures.
Eidelberg was selected in recognition of his pioneering work in brain imaging that has revealed dysfunctional brain circuits in people with dystonia, a movement disorder characterized by painful, prolonged muscle contractions that result in abnormal movements and postures.
Using computer algorithms to analyze images of brain function, Eidelberg has found ways to precisely measure abnormalities associated with not only dystonia, but also Parkinson's and other brain diseases. Already, Eidelberg's research has led to new image-based methods to assess dystonia progression and response to treatment, and to help clinicians diagnose dystonia. Eidelberg also has served on MJFF's Scientific Advisory Board.
Eidelberg will receive an unrestricted research grant of $100,000, which he plans to use to better understand dystonia networks in the brain.
Virginia Man-Yee Lee, PhD, John H. Ware 3rd Endowed Professor in Alzheimer's Research in the Perelman School of Medicine at the University of Pennsylvania, received the Robert A. Pritzker Prize for Leadership in Parkinson's Research. The Pritzker Prize has been awarded annually since 2011 by MJFF to recognize researchers who make an exceptional contribution to Parkinson's research and exhibit a commitment to mentoring the next generation of Parkinson's scientists. Lee is the first female researcher to be selected for the Pritzker Prize.
Lee, a biochemist, began investigating misfolded proteins that accumulate in the brains of people with neurodegenerative disease in the 1990s. In 1997, she and her colleagues identified alpha-synuclein protein as the key component of Lewy bodies, the hallmark protein clumps found in people with Parkinson's disease.
Lee continues to study subtypes of alpha-synuclein; this research is aimed at explaining the diversity of clinical symptoms of Parkinson's and the relationship of Parkinson's to diseases such as multiple system atrophy and Alzheimer's. She also is a partner in MJFF's flagship Parkinson's Progression Markers Initiative, helping to develop and test ways to measure biomarkers in people with Parkinson's.
Lee will receive a $100,000 grant, which she will use to continue advancing Parkinson's research breakthroughs.
The Bachmann-Strauss Prize for Excellence in Dystonia Research was established in September 2014 with a leadership commitment from the Bachmann-Strauss Dystonia and Parkinson Foundation (BSDPF). The alliance between MJFF and BSDPF builds on a 10-year working relationship between the foundations. This major dystonia research prize broadens public awareness and recognizes key scientific discoveries in dystonia.
The Robert A. Pritzker Prize for Leadership in Parkinson's Research was established by Karen Pritzker, daughter of Robert A. Pritzker, and her late husband, investor Michael Vlock. The prize is named in honor of the late Robert A. Pritzker, a renowned industrialist, entrepreneur and philanthropist. The award is designed by renowned artist and Parkinson's patient Tom Shannon.