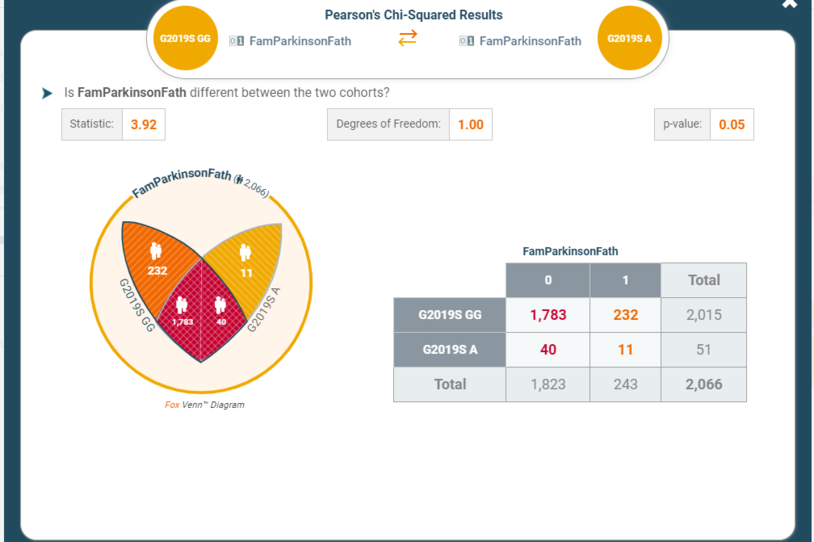 The Michael J. Fox Foundation for Parkinson's Research (MJFF) and 23andMe have launched the Fox Insight Data Exploration Network (Fox DEN), a data and analytics resource for the research community. Fox DEN contains patient-reported outcomes, de-identified genetic data and data exploration tools from the largest cohort in Parkinson's disease research. 
‬‬
Todd Sherer, PhD, chief executive officer of MJFF, says, "Parkinson's is an extremely variable disease that affects individual patients in unique ways. This complicates drug development and clinical trial design. Fox DEN addresses this by bringing the patient experience at an unprecedented scale to researchers and amplifying the patient voice in the development of new therapies for Parkinson's."
Fox DEN features a user-friendly interface and visualization tools, including the Fox Venn™ diagram (pictured). It contains data from surveys on health and disease, symptoms, daily activities, and other factors relevant to Parkinson's fielded through Fox Insight, an online clinical study sponsored by MJFF. This is coupled with genetic information from 23andMe customers who have joined the Fox Insight study. To date, more than 35,000 people have contributed data to the study and we hope to recruit tens of thousands more. Fox DEN is updated with new data from Fox Insight, and all research data is de-identified and participant-consented for data sharing in Parkinson's research.
The data can be used to increase understanding of Parkinson's and inform decisions on patient recruitment and segmentation, ultimately shortening research timelines. Analysts can create cohorts of subjects with characteristics matching specific interests, such as environmental exposures, cognitive symptoms or particular genetic mutations.
Qualified researchers worldwide can register for access to Fox DEN at foxden.michaeljfox.org.