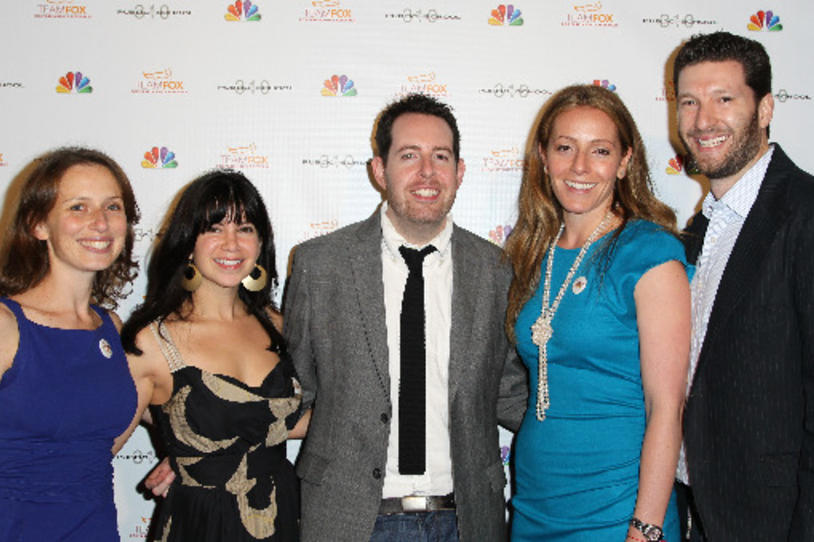 Team Fox ended 2012 on a high note: with a record-setting annual fundraising total of $6.3 million and an inaugural West Coast event that was a huge success. Raising the Bar to End Parkinson's, hosted on December 5, brought to Parkinson's research more than $100,000 worth of attention from the Hollywood scene.
The event committee included Jacob Fenton of United Talent Agency, Melanie Frankel of USA, Andrea Kavoosi of The Rothman Brecher Kim Agency, Dianna Mannheim of Sony Pictures Entertainment and her fiancé, TV writer Justin Sternberg. Each with a personal connection to Parkinson's, the five friends knew they could make an impact through a star-studded night in Los Angeles.
The event served as the unofficial launch party for Culver City's new gastropub, Public School 310, whose executive chef is Fenton's husband, Phil Kastel. Among the nearly 200 guests in attendance were stars including "The Big Bang Theory's" Kaley Cuoco, "Modern Family's" Ty Burrell and "New Girl's" Max Greenfield. For the entertainment, "American Idol" finalist Casey Abrams performed.
But this wasn't the committee's first go at fundraising for MJFF. Their ties date back to the Foundation's earliest days when Sternberg interned on "Spin City."
Before the idea of Team Fox was born, Sternberg had his hand in a host of fundraisers benefitting PD research. And, as members of the Junior Hollywood Radio and Television Society (JHRTS), the committee organized smaller events to benefit  MJFF. Now having made their mark in the entertainment world, the committee reengaged with Team Fox in an even bigger way. So, they raised the bar.
To help pull this off, they secured sponsorship donations from top networks, established an honorary celebrity committee and amassed a gift bag rivaling that from the Emmy's. Along the way, they learned they share personal connections to Parkinson's with colleagues and friends — which came as a surprise. This all-hands-on-deck effort exceeded their expectations, setting the stage for greater success in years to come.
Sternberg says, "The thought that five of us could band together and make a difference here is the greatest feeling in the world. There is nothing too hard, too out of reach or too difficult when it comes to helping people in need. We're excited to raise even more funds in 2013."