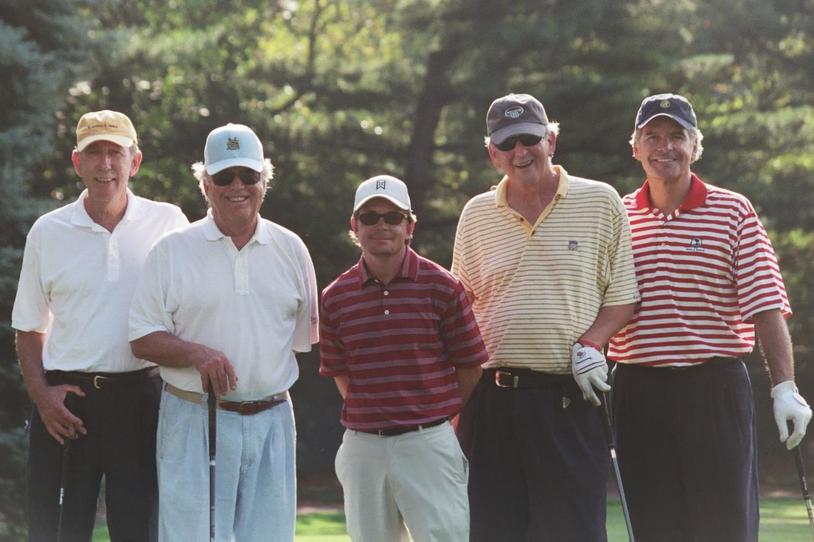 The Michael J. Fox Foundation mourns the passing of philanthropist and former Foundation Board member Edwin A. Levy. He died on May 28, 2021, at age 84. Services were held on May 31 in Boca Raton, Florida.
"Ed inspired us all — he showed that Parkinson's can never stop you from pursuing what you love. His commitment to curing this disease was unmatched," says Michael J. Fox of the Levy family's extraordinary support of The Michael J. Fox Foundation.
Mr. Levy joined MJFF's Board of Directors in 2002, during the formative years of the Foundation. "Ed set a high standard for board service. He was a consummate philanthropist — both giving generously and looking for ways to inspire others to give what they could," recalls MJFF CEO and Co-Founder Deborah W. Brooks. "Ed navigated his Parkinson's with intention — deliberately accessing specialty care and remaining committed to his workouts well into his 80s. He believed in our work from day one and committed himself to doing all he could to cure PD, a tradition that continues with the Levy family today." 
A native of New York City, Mr. Levy was a savvy investor and a giant in the securities business. He leveraged his professional success and the networks he built to serve others as a noted philanthropist for local and national Parkinson's organizations. An avid golfer from an early age, Mr. Levy channeled his passion for the sport as the creator of MJFF's annual golf fundraiser, "Breaking PARkinson's," which since 2004 has raised more than $13 million for critical Parkinson's research. But his greatest passion was reserved for his late wife Carolyne, who passed in 2019, and their family.
Following his own Parkinson's diagnosis, Mr. Levy was devoted to advancing the work of The Michael J. Fox Foundation. "At first [after his diagnosis], Ed felt a little sorry for himself. But that lasted about nine seconds," said Matt Levy, Mr. Levy's son and member of MJFF's Leadership Council, during funeral services honoring his father. "Ed quickly made a decision to devote himself and his life to beating this wretched disease…His determination to beat this thing, to be an active participant in his own recovery and life, was exceptional." 
In lieu of flowers, the Levy family has requested that donations be made to The Michael J. Fox Foundation.
About Ed Levy
Edwin A. Levy was a businessman, investor and philanthropist, and the co-founder of Levy, Harkins & Co., Inc., an investment advisory firm, where he served as chairman of the board.
Mr. Levy also worked for 20 years at Bear, Stearns & Co., becoming a general partner in 1971. He served on the Boards of Directors of Coastcast Corp., Traffix Inc., Bear Stearns Financial Products, World Point Terminals and FutureFuel. He also was active in philanthropic work, having served on the board of the National Parkinson Foundation and Continuum Health Partners, a hospital-operating company that includes Beth Israel Medical Center and St. Luke's-Roosevelt Hospital Center. After stepping down from MJFF's Board of Directors in 2018, Mr. Levy was named to the Foundation's Founder's Council.
Mr. Levy received his BA in history from Brown University