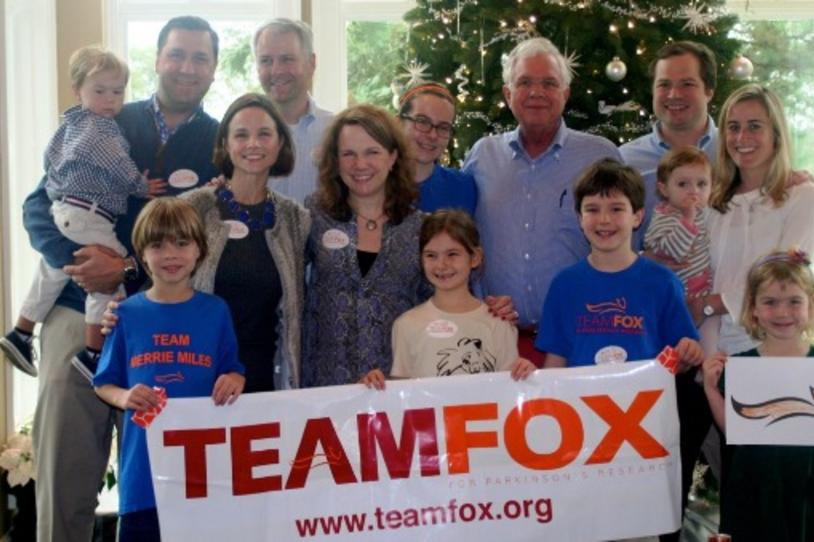 In the years since Team Merrie Miles was established in 2011, its impact has grown to include more than 20 people, six events and nearly $250K raised in support of Parkinson's research. When Merrie Boone passed away in July 2014 after a 14-year battle with Parkinson's, her family knew exactly what to do to honor her strength: host a Team Fox event. 
On December 30, the Boone family welcomed over 100 friends and family for a pancake breakfast which raised over $21,000 in honor and memory of Merrie. We took a few minutes to catch up with Meredith Boone Tutterow — Merrie's daughter and the founder of Team Merries Miles — to hear how everything went:
Tell us about how your event went!
Our family hosted the Spring Island Pancakes for Parkinson's in memory of our wife/mother/grandmother, Merrie Boone, who passed away after a 14-year battle with PD in July 2014.  Mom inspired us to become involved with Team Fox over three years ago, and we thought that hosting this fundraiser would be the perfect way to remember and honor her. Rather than focus on our loss, we knew that Mom would want us to look ahead and continue to help speed a cure for Parkinson's.
We had over 100 friends and family, who enjoyed an all-you-can-eat pancake buffet, a silent auction and bingo, which was organized by Merrie's grandchildren.
The event raised over $21,000, which was far beyond our expectations. We were so moved by the generosity of those who came and the many others who made contributions or donated silent auction items.
What was the best part of your event? What went particularly well?
It was a huge honor to have Debi Brooks, the co-founder of the MJFF, attend our event with her family. We were even more thrilled when she agreed to share updates on the progress made in the efforts to find better treatments and, ultimately, a cure, for PD.
We were also delighted to see how well the grandchildren did with the registration table and bingo.  Mom would have been so proud to see them working together to make the event a success.
Your family and close friends have been involved with Team Fox for many years. What has been most rewarding about being a part of this community?
We have received a lot more from the MJFF than we have given. When we joined Team Fox in 2011, we had no idea how much it would benefit all of us as a family. Team Fox brought us support, community and hope when we most needed it.
We hear that you and your brother will be taking on the London Marathon together in April- amazing!
I never thought I'd run another marathon, but I can't think of a better way to do it: with Watt, in London, and in memory of Mom. The race itself will be the reward for the long months of training that lead up to it.  Our family will be there to cheer us on, and I look forward to those moments of spotting them along the course and at the finish line. It will be an emotional day for all of us, and I'm so happy that we'll be able to experience it as a family.
Anything else you'd like to share?
This was Team Merrie Miles' 6th fundraising event so far. We've hosted three Pancakes for Parkinson's, run the Chicago Marathon, completed the Ironman 70.3 Steelhead, and even climbed Mount Kilimanjaro. Team Merrie Miles consists of 20 friends and family members, and we're all committed to helping MJFF continue and accelerate its innovative work. We just learned that one of our attendees has been inspired to organize her own P4P, so we'll get to continue seeing Mom's legacy expand even beyond our own efforts. Nothing could make us prouder than that.