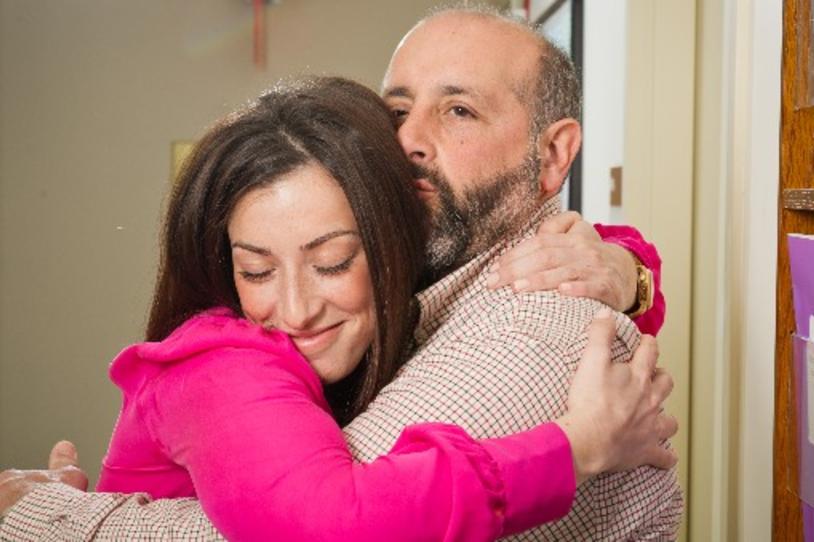 Parkinson's disease affects the whole family, not just those who are diagnosed. This is especially true if you are the primary caregiver for a spouse, parent or other loved one with the disease. The information on this page provides guidance on what to expect from Parkinson's caregiving and how to care for your own health.
How Can I Help Manage My Loved One's Care?
A spouse, adult child or other family member can play a significant role in helping a person with Parkinson's disease stay organized and receive the best care possible.
Find a movement disorder specialist. A movement disorder specialist is a neurologist with additional training in Parkinson's disease. This specialized doctor is generally on the cutting edge of Parkinson's disease care, and can help your loved one build a plan that works best for them. Use our Movement Disorder Specialist Finder to find a specialist in your area.
Attend doctor's appointments with your loved one. Doctor's appointments can be overwhelming, and it's helpful to have another person along to listen and take notes. A partner may also have a better sense of whether mood symptoms like depression and apathy are a concern. Take a list of questions with you to help guide the appointment and ensure you get all the information you need.
Stay organized with a calendar that you can take to doctor visits. Note doctor and therapy appointments, the start and stop dates of medicines, and any side effects you may notice.
Keep a list of all doctors' phone numbers and addresses in case of an emergency. Also keep a separate and updated list of all prescription medications, their dosages and instructions and the prescribing provider. Note allergies or medication intolerances as well.
Familiarize yourself with the terms of your loved one's medical insurance. Know what services, including prescription medication coverage and therapy session benefits, are included. Talk with your physician about the long-term needs of your loved one, and make sure his or her current medical plan will meet those needs. Engage the services of a social worker if you need help navigating these issues.
Understand the disease. You do not need special medical training to help at most stages of the disease, apart from the most advanced stages. Most caregivers are primarily called on to aid with daily tasks that may become difficult or impossible for someone with Parkinson's, and to provide ongoing emotional support. One exception: if Parkinson's causes trouble swallowing and therefore increases the risk of choking, knowing the Heimlich maneuver can be lifesaving.
Exercise together. Besides medication, exercise is one of the most beneficial ways to help Parkinson's disease symptoms. Your loved one may be more likely to stick with a plan if you find an exercise you enjoy together.
Long-Term Decisions for Parkinson's Caregivers
Your role in your loved one's care may also change as the disease progresses. It's important to know what to expect from the disease and to make plans around eventual disease progression.
Prepare for later-stage symptoms. Parkinson's disease is different for everyone, but it's helpful to familiarize yourself with potential later-stage symptoms of the disease. Some people with Parkinson's disease experience cognitive impairment, which can range from mild impairment – difficulty with planning and organizing activities – to more serious dementia. Parkinson's disease affects movement, and some people with the disease require a wheelchair later in life. The severity of these symptoms depends on the person's age at disease onset and overall health.
Discuss long-term preferences when your loved one is first diagnosed. Discuss the possibility and feasibility of full-time care, assisted living and hospice care. Make sure your loved one has his or her will in order.
Consider changes that can make your home safer for your loved one. Start with small changes, like clearing the floor of potential obstacles such as throw rugs and extension cords. Add more lights around the house, especially touch lights and lights that respond to sound. If it's in your budget, consider installing railings along walls and hallways. Some families choose to downgrade to a smaller home or one-story home after a Parkinson's disease diagnosis. You can also consider building ramps, stair lifts and wider doorways if your budget allows. Medicare covers different types of portable medical equipment, but not permanent installations.
Dealing with Caregiver Stress and Burnout
A Parkinson's disease diagnosis, and all the care coordination that comes with it, can be very stressful. Many caregivers spend a large amount of their time providing care – in many ways, it may feel like a full-time job. But remember that prioritizing your own health allows you to provide the best care for your loved one.
In particular, be on the lookout for caregiver burnout: a state of physical, mental and emotional exhaustion that may come with a change in attitude. You may feel more negative and less caring toward your loved one. If you begin to feel this way, or begin experiencing symptoms of depression or anxiety, meet with a mental health professional.
If possible, bring in professional help. If in-home care isn't in your budget, try hiring a home health aide to come visit for just a few hours a week or month. It gives you a chance to relax or take care of errands without breaking the bank.
Try online resources for caregivers. The Lotsa Helping Hands tool allows caregivers to create a care calendar to share with family and friends. Through the tool you can schedule meal deliveries and rides to medical appointments.
Find a support group for caregivers. Parkinson's disease support groups can be helpful both for people with the disease and their loved ones. Consider also finding your own support group for caregivers. It gives you a chance to vent frustrations with others going through the same experience. If there aren't support groups in your area, or if you can't fit meetings in your schedule, try an online support group. WellSpouse.org and Caring.com both offer forums and discussions for Parkinson's disease caregivers.
Communicate with your loved one about what tasks he or she may be able to perform solo. Working as a team helps keep your loved one engaged in his or her own care, while potentially giving you more breathing room.
Make time for yourself, even if it's just for 15 minutes a day. Enjoy a cup of tea, a chapter of a good book, write in a journal or simply breath deeply for a few moments. It may sound impossible to fit into your schedule, but a little bit of self care can go a long way.
Exercise regularly and get enough sleep. Regular exercise has been linked to decreased depression symptoms and stress levels. Relaxing routines such as yoga or tai chi can also be effective. Studies suggest that exercise may also help you sleep better at night.