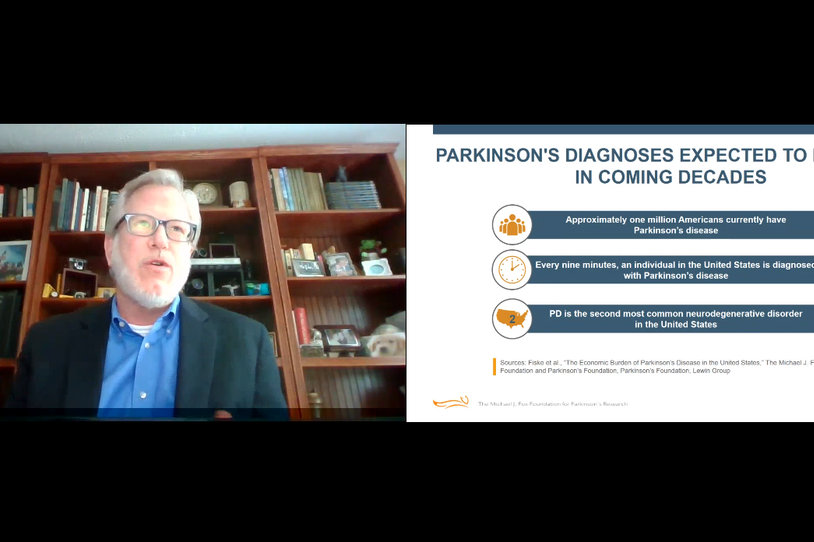 One million people in the United States have Parkinson's disease, and at least half of them may experience clinical depression, anxiety or other mental health issues. In fact, depression and anxiety may emerge prior to the more classic motor symptoms of Parkinson's, and these issues can complicate other symptoms and affect long-term outcomes.
There are more than 200,000 licensed mental health counselors and marriage and family therapists in the U.S. Unfortunately, services from licensed mental health counselors are not covered through Medicare, and therefore not reimbursed. Ninety percent of Parkinson's patients receive health care coverage through Medicare and have no coverage for these providers. It's time to change that.
To educate Members of Congress and their staff about this issue, on May 27, The Michael J. Fox Foundation (MJFF) co-hosted a virtual Congressional briefing about access to mental health care.
The briefing was an educational event for Congressional staff focused on improving patient access to mental health services by discussing the connection between Parkinson's and mental health, the negative effect of the pandemic on patients' mental health and how health care providers are responding.
Participants in the briefing advocated for the Mental Health Access Improvement Act, currently awaiting action in both the U.S. House and Senate, which would allow for more Medicare patients to receive mental health care services.
Our co-hosts for the briefing were the American Mental Health Counselors Association and the National Board for Certified Counselors. Together, we collaborated with members of the Congressional Caucus on Parkinson's Disease and Congressional Mental Health Caucus to ensure we had the right people in the (virtual) room to learn about this issue and what Congress needs to do to ensure greater access to mental health services and providers, including the 200,000 licensed mental health counselors and marriage and family therapists who are not reimbursed by Medicare.
In addition to speakers from MJFF and the other two co-hosts, Lisa Cone, a patient advocate, spoke about her experience with mental health challenges leading up to and after her Parkinson's diagnosis. Psychologist and professor Dr. Roseanne Dobkin spoke about the need for greater access to services and providers. And, a licensed mental health counselor, Henry Montero, spoke about how cognitive behavioral therapy has worked for people living with Parkinson's.
"Some of our symptoms include anxiety, depression, mental fog, apathy, fatigue, insomnia and daytime sleepiness," said Lisa. "People with Parkinson's are more vulnerable to these because of the changes in our brain chemistry."
Watch or listen to a video recording of the briefing.
Want to take action on this issue? Tell Congress they need to ensure licensed mental health providers are covered by Medicare.