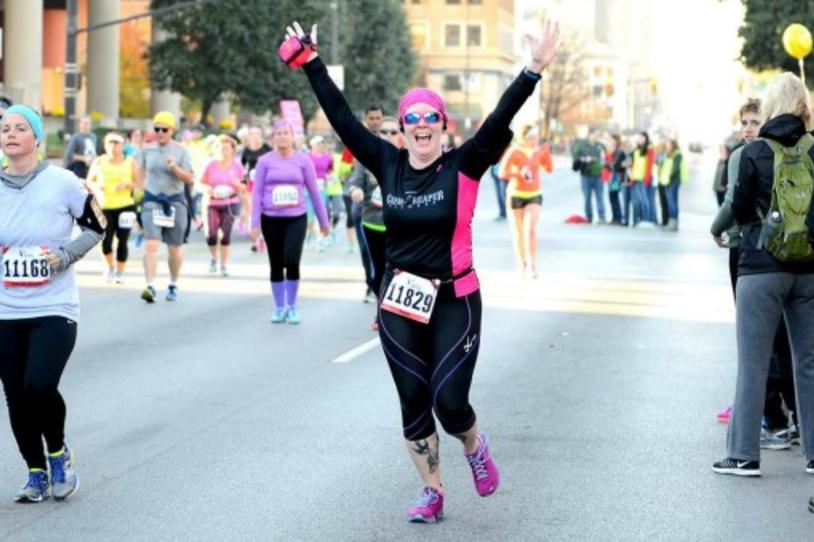 On March 19, thousands of marathoners will line up in Central Park for the 2017 United Airlines New York City Half Marathon. The 52 Team Fox-sponsored runners who will join this race have already raised more than $70,000 in support of the Foundation's high-impact programs to speed a cure for Parkinson's disease (PD). We checked in with three of these incredible athletes about why they decided to join the team, their training strategy and how they fundraise to help us get closer to that ultimate finish line: a cure.
Kristy Tindall of Calhoun City, Mississippi
"In 2016, I gained entry for the NYC Half Marathon through the New York Road Runners drawing and that is where I first discovered Team Fox. This year, my sister and I decided to run the New York City Half Marathon with Team Fox for my mother who is living with Parkinson's. 
My job as a middle school science teacher has allowed me to collaborate with my colleagues and brainstorm creative ways to encourage our students to help fundraise. With each fundraiser we educate students on PD and set fundraising goals. If our students raise a certain amount, they are allowed to do things like duct tape me to the wall during lunch or throw water balloons at me. So far, my students and I have raised $475 (and counting!).
In addition to engaging my students, I also created a Fox Trot 5K in my hometown to help support my marathon fundraising goal of $1,500. Though the event hasn't happened yet, I already plan to continue this tradition every year!"
Katie Boland of Milford, Connecticut
"My friend Chris Tracey is married to one my best friends, Annie. Chris was diagnosed with Parkinson's in 2013 at 34, and it pained me to watch my friends navigate the diagnosis and come to terms with the uncertainty of their future. Later that year I was invited to a weekend in Cape Cod to run a relay marathon for "Team Tracey" — a clear sign that Chris and Annie weren't going to let Parkinson's control their lives. To date, "Team Tracey"­ has raised over $20K for Team Fox through a number of different races and events.
Last year, inspired by the support from fellow foxes, I officially joined Team Fox myself and ran the New York City Half Marathon. I met so many inspiring people that I'm back for round two!"
Mary (Pinkie) Roffers of Normal, Iliinois
"Inspired by the 2015 Tour de Fox cross-country adventure, I aimed my sights on becoming a Team Fox athlete.
Last year marked the 10-year anniversary of my father's Parkinson's diagnosis, so I cooked up the idea of running the New York City Half. After knee surgery in 2007, no one thought I'd be able to run the distances I do today. And while I'm not fast, I feel like running the Half is a perfect way to push my limits, support my father and support Parkinson's research."
Interested in helping us get closer to a cure? Check out opportunities to become a Team Fox athlete today. Already running with Team Fox? Share your personal story here.