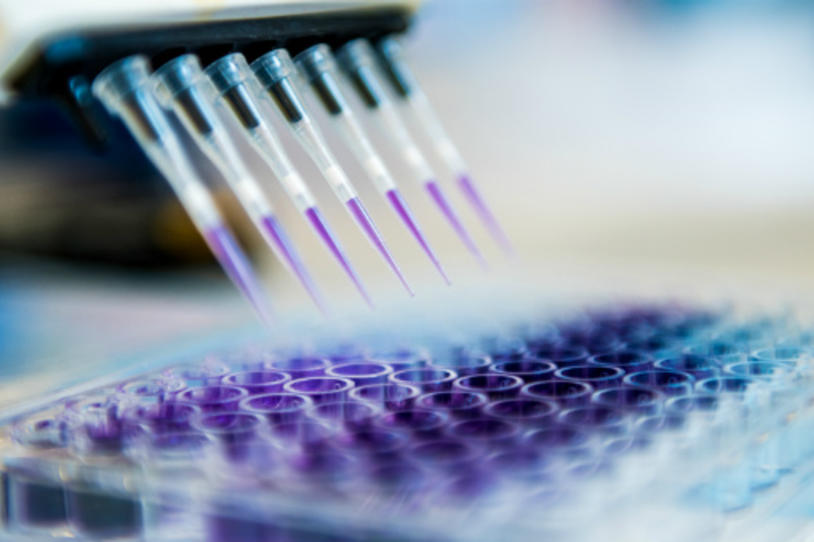 Today there are more therapies to slow or stop Parkinson's in human trials than ever before. But those treatments face challenges in proving their effectiveness, and we want to ensure that even more potential therapies enter clinical testing.
Objective, biological markers of Parkinson's disease -- called biomarkers -- would be a game-changer. A perspective published today in the journal Science Translational Medicine lays out the needs and opportunities in Parkinson's biomarker research.
Nearly 40 experts, including Michael J. Fox Foundation (MJFF) CEO Todd Sherer, PhD, and several other senior staff, write that "the creation of tools enabling development of disease-modifying therapies in Parkinson's is a reachable, immediate goal, worthy of research investment." Indeed, MJFF invests significantly in the development of Parkinson's biomarkers, and the ideas in the paper originated from a Biomarkers Discovery Workshop convened by our Foundation in March 2016. The work was also supported and further developed at a meeting held by the National Institute of Neurological Disorders and Stroke (NINDS), part of the National Institutes of Health.
"Parkinson's disease patients urgently need better treatments, and NIH-funded scientists are continually unraveling the biologic basis of the disease. However it takes a truly collaborative effort to deliver on the promise of the science," said Walter J. Koroshetz, MD, NINDS director. "Our hope is that by working together through public-private partnerships we can accelerate the pace researchers can find effective Parkinson's disease biomarkers and better treatments for patients."
Speeding New Treatments to Patient Hands
The many potential therapies in human testing -- against Parkinson's protein alpha-synuclein, for example, and repurposed from other diseases -- create an urgent need for Parkinson's biomarkers. Most of these trials are following people in the years after diagnosis to see if a drug slows progression of the disease.
The challenge is that people with Parkinson's progress at different rates, so showing a treatment effect is difficult. You may need hundreds of participants observed over multiple years, and a false negative is still possible. If scientists had biomarkers that predicted who would progress faster, they could see an effect sooner and require fewer participants and a shorter study.
The perspective authors point out that the MJFF-led Parkinson's Progression Markers Initiative (PPMI) study shows distinct trajectories of movement symptom decline in early disease, with some progressing much faster than others. Our Foundation is funding PPMI researchers and others to look for biological predictors of those trajectories to help trials choose the fast progressors to test new treatments.
Building on What We Have Now
Some trials are using brain scans of dopamine activity (DAT scans) to help select participants, and last month the European Union's regulatory agency endorsed DAT scan as a tool to enrich Parkinson's trials. However, it's not clear if DAT predicts a person's speed of progression. It shows if someone is experiencing the Parkinson's effect of dopamine loss (as opposed to only exhibiting the clinical symptoms).
It's likely, the perspective authors write, that there will not be one Parkinson's biomarker but a mix of multiple markers that help scientists understand and predict one's experience with disease.
Using Current Resources to Reach Our Goals
Reproducible and accessible biomarkers are possible, the perspective states, because Parkinson's research has built an ecosystem of shared data and biosamples with standardized collection and storage protocols. So scientists have a trove of information to mine and the ability to compare across studies.
Much of this progress happened thanks to PPMI. MJFF launched the study in 2010, and it has since enrolled more than 1,500 people with early-stage Parkinson's, at risk for the disease or without Parkinson's. That set the stage for the NINDS Parkinson's Disease Biomarker Program and for the Fox Investigation for the New Discovery of Biomarkers (BioFIND), a collaboration between NINDS and MJFF. Other large-scale studies opening access to data and biologics such as fluid and tissue samples have followed.
"Before the advent of these shared biobanks, investigators depended on their own ability to collect hundreds or thousands of samples for testing, preventing potential researchers lacking access to large clinical populations from entering the biomarker discovery arena," said Alice Chen-Plotkin, MD, of the Perelman School of Medicine at the University of Pennsylvania, a member of the MJFF Scientific Advisory Board and lead author on the perspective. "However, within the last five years, multiple public-private efforts have laid the groundwork for investigators from both academic and industrial sectors to access well-documented clinical samples. These repositories are all open for collaboration to improve the pipeline to take Parkinson's biomarkers from concept to clinic."
The authors stress the need both for more biomarker discovery efforts and for funding and support of replication and validation studies. Perhaps, they recommend, more clinical trials should release their data. This access would allow scientists to analyze trial results through the lens of emerging biomarkers.
As the field takes steps toward game-changing Parkinson's biomarkers, "broad collaboration is essential," the authors write. MJFF strives to be a convener in these efforts -- holding workshops to strategize with varied stakeholders, building infrastructure such as PPMI with academic and industry support and funding this important work to ultimately push new treatments to patients sooner.
Read more about the pursuit of Parkinson's biomarkers.
Interested in joining a biomarkers study? Register with Fox Trial Finder to match with clinical studies looking for volunteers like you.