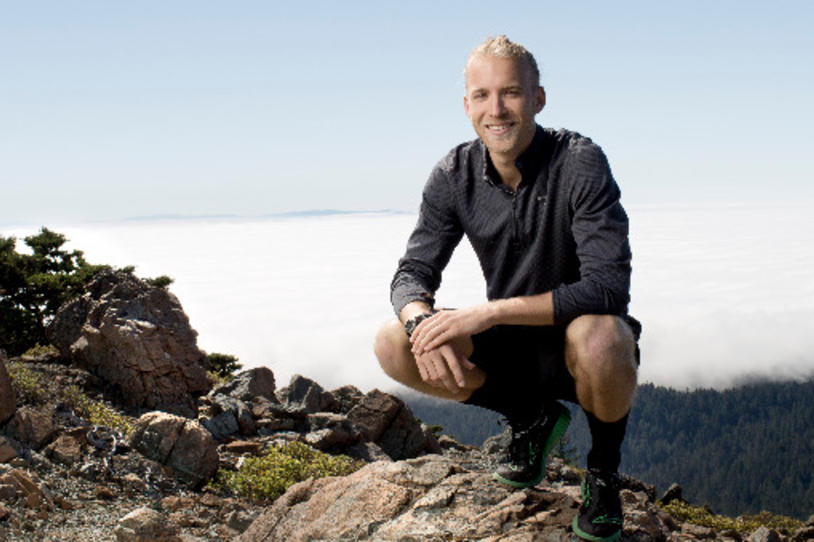 This June, endurance athlete and MJFF staff member Sam Fox (no relation to Michael J. Fox) will take on his third extreme fundraising feat for Team Fox: riding his bike 5,000 miles through 48 states (with one final stop in Vancouver, Canada) while climbing the highest peak in each state — all in three months' time. The Tour de Fox, which kicks off in New York City on June 2, aims to raise $1M for Parkinson's research.
But unlike Sam's Pacific Crest Trail run in 2011, this adventure isn't a solo endeavor. Sam is encouraging others to join him — by hiking, biking or celebrating with him on the Tour. Sam spared a few minutes from his training and trip planning to talk about this next major undertaking with FoxFeed readers.

What inspired Tour de Fox?
My mother, Lucy, was diagnosed with Parkinson's more than a decade ago. I hate that she has to deal with the frustrations of physical discomfort every single day. Having now worked at MJFF for more than four years, I've met so many incredible people, including Team Fox members, who have also become a source of inspiration. The opportunity to meet hundreds, maybe thousands, of people who have similar Parkinson's experiences, all while raising money to cure the disease, seems like something I'd be crazy to pass up.

How do you train for an undertaking like this?
I exercise twice a day, once before work and once after — spending hours each week riding a bike, running, swimming and lifting. I'm building cardiovascular endurance while strengthening certain parts of my body to avoid injuries that are common for long-distance bikers. I try to get out of New York City on weekends and into some real wilderness to get my trail legs under me. But in a pinch, running stairs in Central Park is a pretty good substitute.
This isn't your first go at an extreme adventure for Team Fox. How do you stay motivated on these long and challenging journeys?
Tour de Fox is quite different from things I've done in the past, and with the schedule as packed as it is I don't think I'll lack motivation. I'll have the pleasure of meeting new supporters every day for three months, and a line of friends stretching from coast to coast. But, yes, on those high mountain roads, or while baking under the hot desert sun, I know that remembering I'm out there for my mom will keep me going.
What do you think will be the most physically challenging part of the Tour?
When I think about the individual challenges on this route, I actually get excited. I love trying to push my limits, and there will certainly be opportunities to do that. The totality of the Tour, the non-stop nature of the schedule, is what I think will be the most challenging. There is no rest between peaks and rides. The crew and I will always be on the move, eager to get to the next state, to the next mountain, and to meet the next dedicated group of Tour de Fox climbers, riders and supporters.
But if I had to narrow it down to one leg of the Tour, it would be some of the back-to-back Xtreme events in August and September. The Xtreme events are the more physically challenging excursions of the Tour, and only experienced riders and climbers can sign up to join me for one of those 10 events. On one Xtreme event, we start at the lowest elevation in the contiguous United States by biking 135 miles through Death Valley in the middle of summer. Flash forward 24 hours later, I will be with the next group hiking 21 miles to the highest summit in the lower 48 states, Mount Whitney. So these truly are extreme events.
How can someone get involved and join you on the Tour?
You can join me on one (or more!) of 49 different climbs across the country. As I mentioned, only experienced adventures can join me on one of the 10 Xtreme events; spots are limited due to the physical nature of those climbs and rides. You'll also have the option to join me on seven different bike stages, or to celebrate with me and the crew at one of many Tour celebrations along the route.
Once signed up for the Tour, you'll be able to tell your Parkinson's story and share your training and fundraising progress with the whole MJFF community. Become a team captain today to get started.