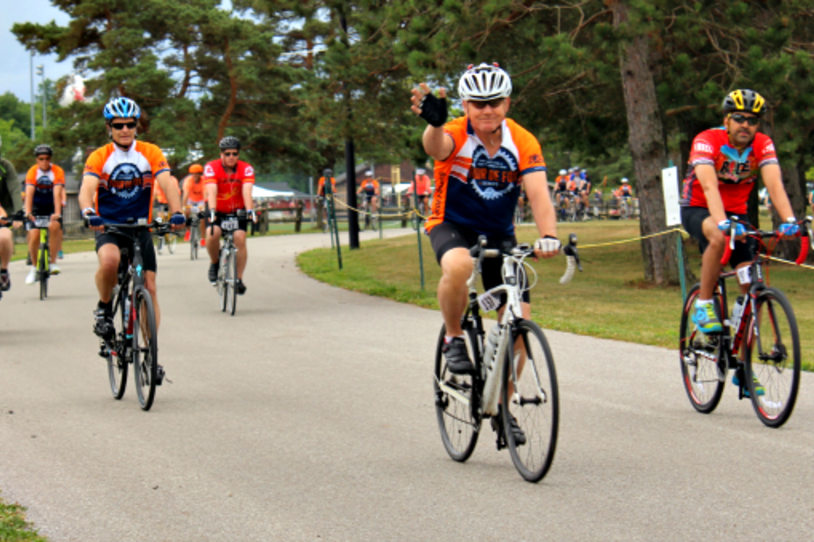 On Saturday, July 16, an enthusiastic crowd of more than 150 people in Cleveland, Ohio helped kickoff the Tour de Fox Series in highly successful fashion. Cyclists of Tour de Fox Great Lakes braved the rain and hilly terrain while covering 10-, 35- or 75-mile routes.
Soon after riders began to cross the finish line, the sun broke up the clouds and shone down while attendees celebrated post-ride with great food and music. In total, thanks to the support of cyclists, finish-line festival attendees and event volunteers, Tour de Fox Great Lakes has raised more than $75,000 (and counting!) to speed better treatments and a cure for Parkinson's.
From a personal standpoint, it's incredible to see the Tour de Fox live on in this new format. It was clear to me during last year's cross-country journey that the overwhelming strength of the original Tour didn't come from the thousands of miles ridden or the spectacular summit views. It came from all of the people who made the considerable effort to be a part of the Tour.
The magic of last year was also born from the stories we heard at every stop -- the somber and the triumphant -- and our community's generosity to share their experiences not just with me and other Foundation staff, but with countless others who were following the Tour all summer long.
This year's Tour de Fox Series continues to instill that same magic. Check out these photos from the first stop in Cleveland to see a few of the familiar (and new!) faces who strapped on a helmet, volunteered their time or joined the party at the finish in support of a cure.
If you weren't able to join us in Great Lakes, don't worry! Two additional Tour de Fox events are quickly approaching in the Pacific Northwest (August 20) and Sonoma Wine Country (August 27). Interested cyclists of all ages and abilities are welcome to ride, or come out to enjoy the food and music at the finish-line party. I can't wait to meet more of you and to bond over our shared determination to cure Parkinson's. See you soon!