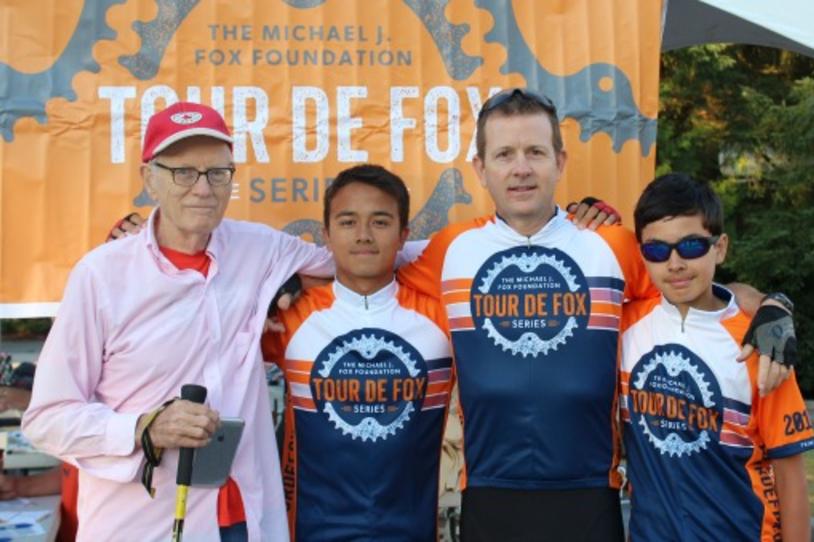 As we drove through British Columbia on Saturday, August 20 for the second leg of the 2016 Tour de Fox Series, my brain felt foggy with jet lag, but I was quickly energized by the enthusiasm of the volunteers and cyclists (not to mention lots of coffee). As a Team Fox staffer, it was moving to see more than 100 riders come together on a hot summer day to make their miles count by raising funds for critical Parkinson's research.
Thanks to the support of cyclists, finish-line festival attendees and event volunteers, Tour de Fox Pacific Northwest has currently raised more than $140,000 (CAD) to speed better treatments and a cure for Parkinson's. The event was spotlighted by a feature on Canada's top-rated morning show, where Rachel Dolhun, MJFF's vice president of medical communications, and Tour rider Jonathan Mackin discussed the realities of living with PD and research progress.
Trinity Western University (TWU), located outside Vancouver, provided a spectacular setting for both the start and finish, and Team TWU raised more than $18,000 (CAD) for the ride -- showing their support for Tour de Fox in several ways. TWU President, Bob Kuhn, rode the medium distance of 35 miles and then spent time with the participants and supporters at the finish-line festival. He summed up the sentiments of many riders and volunteers, saying, "These are the kinds of events that bring hope to people who live with Parkinson's every day."
This was mirrored in the commitment of the participants and overwhelming support of their friends and family. One such rider was James Colquhoun, whose wife, Diane, passed away two weeks before the ride after living with Parkinson's for 14 years. While James had been planning to ride the 75-mile distance in her honor, the ride became a memorial ride: His son and granddaughter, Scott and Amelia Neal, participated in the 10-mile ride as well. And James' sister, daughter-in law and grandson also came out for support and encouragement.
Several people living with PD also took part. One, Peter Beidler, volunteered his time to help cross check bike numbers. His son, Kurt and grandsons, Marcus and Lucas, participated in the 75-mile ride as part of Team "For Pete's Sake." Val Swanell from West Vancouver, diagnosed with Parkinson's in 2010, participated in the 35-mile ride with support from her brother Geoffrey. And longtime Team Fox member Jimmy Choi traveled from Illinois to participate in the ride while his wife Cherryl volunteered. Check out some photos from the event below to see some of the Tour de Fox riders and volunteers.
This coming weekend is the final event for the 2016 Tour de Fox series in Sonoma Wine Country (Saturday, August 27). Interested cyclists of all ages and abilities are welcome to ride, or come out to enjoy the food and music at the finish-line party, hosted at Kendall-Jackson Wine Estate & Gardens. If you can't participate, show your support by donating to Tour de Fox and follow on social media with #TourdeFox.