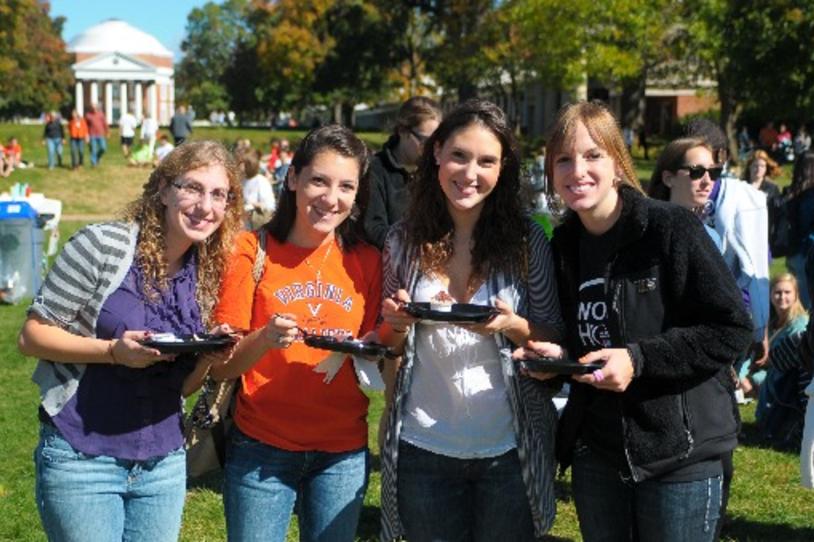 This week, one of Central Virginia's tastiest traditions returns to Charlottesville as students at the University of Virginia (UVa) prepare for the 10th Annual Pancakes for Parkinson's fundraiser.
A fully student-led and managed event, Pancakes for Parkinson's (P4P) was inspired by the admissions essay of former student Mary McNaught Yonkman who believed in the power of pancakes to bring together students and the local community in support of a cause close to her heart. Since its inception in 2004, P4P has transformed into a highly-anticipated fall tradition that has brought together thousands of community members and raised nearly a quarter of a million dollars for Team Fox. This year, the event will take place from 9 AM to 2 PM on the University's Lawn opposite Thomas Jefferson's iconic Rotunda.
 Each year, Pancakes for Parkinson's at UVa is led by two event co-chairs and an executive board of dedicated students who spend 6 months preparing for the fundraiser. This year's team is comprised of 25 students, at least one third of whom have a direct tie to Parkinson's. "My father lived with Parkinson's for over two decades and I continue to be incredibly inspired by his courage in confronting and combating [Parkinson's]," says Corporate Sponsorship Chair Mary Grace Oakes. "I know my father was heavily invested in the actions taken by MJFF and I truly appreciate the opportunity to support the Foundation's efforts through my involvement with Pancakes for Parkinson's."
 John Burns, the committee's financial officer, represents one of the many members without a direct tie to PD who is equally as invested in helping speed a cure: "While I don't have a direct link to Parkinson's, I like viewing my time committed to P4P as hope that I'll never have a direct link to PD. I think we've been able to make a tangible impact [these past 10 years] and I'm excited to keep working until that goal has been achieved."
 This year's co-chairs, Jack Kelley and Josh Myers, have both been involved with P4P since they enrolled at the University and are extremely excited to be chairing the 2013 event. For Josh, whose grandmother lived with Parkinson's for 25 years until earlier this year, Saturday will be especially poignant. "This year is particularly special for me because it combines a personal tribute to [my grandmother's] memory as well as a special celebration of our community's tradition of supporting this cause. It's a great way to bring my four years of involvement full circle," he explains.
 While the planning that goes into preparing a hot pancake breakfast for an estimated audience of 6,000 hungry diners each year can be extremely stressful at times, the committee agrees that the honor of upholding the University's famed tradition is well worth their time and efforts. "The most enjoyable part of Pancakes for me actually takes place during the early morning on the day of the event," notes Jack. "Before the sun has risen, or any pancakes have been flipped, the Lawn is buzzing with excitement as the executive board ensures that all of the logistics are in order." In those final moments as griddles are being unloaded, balloons are being inflated and batter is being mixed, Jack notes that the anticipation of the event is inexplicable. "It's well worth the long hours," he explains, "it's what's kept me coming back year after year."
The UVa Pancakes for Parkinson's team is excited to extend an invitation to any and all community members with an interest in attending. Admission is free, but donations are welcomed and strongly encouraged. Planning on stopping by? Be sure to visit the Michael J. Fox Foundation table to say hello to Team Fox Officer—and former UVa Pancakes for Parkinson's co-chair—Liz Diemer and to learn more about getting involved with MJFF.