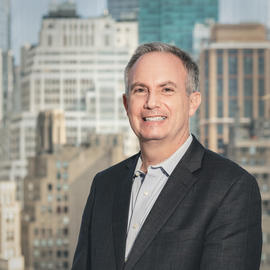 "Always remember that PD is different for each person, what works for others may not work for you. Stay mentally and physically active. Keep a sense of humor. And while Parkinson's is an important part of your life, it doesn't define you."
Bret Parker is Executive Director of the New York City Bar Association. Since becoming an attorney nearly 30 years ago, he has worked in private practice and at various companies, including Elizabeth Arden and Colgate-Palmolive. Bret was diagnosed with Parkinson's disease in 2007 at age 38, but kept it relatively secret until he published a blog on the Forbes website in 2012.
Since sharing his diagnosis publicly, he has been an advocate for Parkinson's disease patients and research. He believes that one key to finding a cure and better treatments is for more young patients to disclose their condition to raise awareness for greater research participation. Bret organized a Facebook group for people living with young-onset PD to discuss issues relevant to them and more than 400 people have joined the group worldwide. Since 2012, Bret and his family and friends also have raised over $800,000 for Team Fox through activities such as runs, triathlons and skydiving. In early 2018, Bret completed the World Marathon Challenge completing 7 marathons on 7 continents in 7 days.
He attended the University of Pennsylvania and Fordham University School of Law. Bret and his incredible wife, Katharine, a United States Magistrate Judge, have two amazing sons, Matt and Ben.
---
The MJFF Patient Council was established in March 2009 as a formal channel for the Foundation to solicit input from PD patients and the broader Parkinson's community. The Council advises the Foundation on programmatic fronts including (but not limited to) strategies to best convey patient priorities to the research community and its funders; content and emphasis for patient education and outreach relevant to MJFF's mission to find a cure; patient roles in developing novel ways to conduct research; and mechanisms for impact assessment.