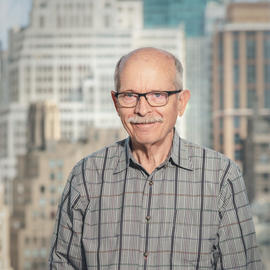 "My participation in MJFF's Patient Council was inspired by my desire to take control, as much as possible, of my own destiny in confronting this disease. Any contribution I might add in advancing a cure is hopefully additive to the talented, diverse members of this important group."
Carl Bolch, Jr. is the chairman of RaceTrac Petroleum, Inc., a retail chain of over 600 gasoline/convenience stores operating in twelve southern states. RaceTrac is a third generation family business that is over 75 years old. He is a past president of the Society of Independent Gasoline Marketers of America and a past chairman of the National Association of Convenience Stores. He also is a former board member of the Atlanta Rotary Club to which he has belonged for over 25 years. Carl is a graduate of the Wharton Business School of the University of Pennsylvania and Duke Law School.
Carl's father, Carl Sr., had Parkinson's disease, and Carl was diagnosed with PD in 2007. He has been an active supporter of The Michael J. Fox Foundation. In April 2011, RaceTrac sponsored an event called "Coffee for a Cause" that donated all profits from the sale of coffee in its stores for a five day period to MJFF. This event, and ancillary fundraising efforts, raised approximately $131,000 for MJFF; and in addition, RaceTrac helped increase public awareness of MJFF and Parkinson's research by disseminating brochures and information sheets to its customers during this same period. "Coffee for a Cause" especially impacted Atlanta, Florida, Dallas/Ft. Worth and New Orleans, RaceTrac's biggest markets.
Carl's wife, Susan, and their children are proud of their efforts on behalf of Parkinson's disease, that include making MJFF and Parkinson's research a focus of their family's philanthropy.
---
The MJFF Patient Council was established in March 2009 as a formal channel for the Foundation to solicit input from PD patients and the broader Parkinson's community. The Council advises the Foundation on programmatic fronts including (but not limited to) strategies to best convey patient priorities to the research community and its funders; content and emphasis for patient education and outreach relevant to MJFF's mission to find a cure; patient roles in developing novel ways to conduct research; and mechanisms for impact assessment.