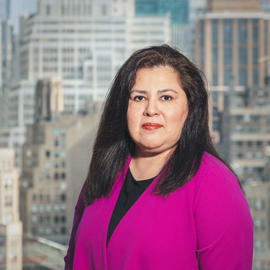 Claudia Garrido-Revilla was born in Monterrey, Mexico.  She was diagnosed with Parkinson's disease at age 45.  She began to take on education and advocacy as a response to her diagnosis. She soon became interested in helping others in her same situation, and in helping research and the search for a cure.
Claudia has served as a Fox Trial Finder Ambassador and Team Fox member with The Michael J. Fox Foundation. Her advocacy and service activities are not limited to the Parkinson's community. She has found that service and advocacy are necessary to keep a community together and healthy, and that volunteers and leaders are needed everywhere and always.
Claudia and her husband Carlos Revilla have two teenage sons: Carlos, 17, and David, 15.  After her husband's career at Caterpillar Inc. required the family to relocate to America in 2000, they moved to Peoria. In 2011 Claudia and Carlos became naturalized American citizens.
---
The MJFF Patient Council was established in March 2009 as a formal channel for the Foundation to solicit input from PD patients and the broader Parkinson's community. The Council advises the Foundation on programmatic fronts including (but not limited to) strategies to best convey patient priorities to the research community and its funders; content and emphasis for patient education and outreach relevant to MJFF's mission to find a cure; patient roles in developing novel ways to conduct research; and mechanisms for impact assessment.