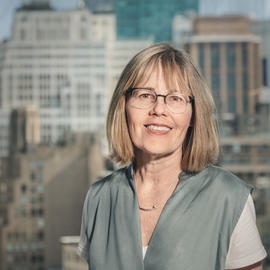 "The Patient Council has allowed me to bring the work of the Foundation back to my community; educating the Parkinson's community on what is happening, and how they can help keep the momentum going."
Karen Jaffe is an OB/GYN physician, who in 2007 at the age of 48, was diagnosed with Parkinson's disease. Dr. Jaffe retired from her private practice in 2013. She has become an advocate for clinical research, a Team Fox fundraiser and a source of consult for those with the disease.
In 2011 she formed Shaking With Laughter, a charitable organization that raises money for Parkinson's research through events that have an element of humor. After seven years, she and her husband Marc have raised over $1,000,000 for Parkinson's research. Dr. Jaffe is a co-founder of InMotion, a wellness center that uses a community-based group approach to help people with Parkinson's disease feel better every day. Through evidence-based exercise, arts, support and education programs, InMotion helps clients take control of their symptoms and learn to live positively and constructively with PD. Now in its sixth year, InMotion continues to provide all of itss services free to patients and their care partners.
Dr. Jaffe and her husband, Marc, have three daughters: Alena, Jana, Sarah, and one very sweet granddaughter.
---
The MJFF Patient Council was established in March 2009 as a formal channel for the Foundation to solicit input from PD patients and the broader Parkinson's community. The Council advises the Foundation on programmatic fronts including (but not limited to) strategies to best convey patient priorities to the research community and its funders; content and emphasis for patient education and outreach relevant to MJFF's mission to find a cure; patient roles in developing novel ways to conduct research; and mechanisms for impact assessment.