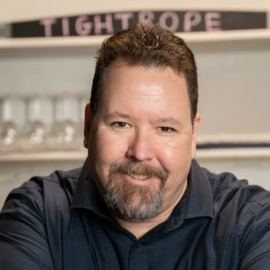 Larry Gifford has spent nearly 30 years on radio and is currently the National Director of AM Radio for Corus Entertainment in Canada.
Larry Gifford is the cofounder of PD Avengers, a remarkable global initiative dedicated to ending Parkinson's disease. Diagnosed with young-onset Parkinson's disease in August 2017 at the age of 45, Larry's personal journey towards this mission began even earlier when he and his partner, Rebecca, noticed the initial symptoms of the disease back in the year 2000.
Originally from Ohio, Larry and Rebecca's life together has taken them through eight different cities across North America. They now call Vancouver, B.C. Canada home, where they live with their teenage son, Henry.
Larry's career has been diverse, most recently, he transitioned from a thriving three-decade-long radio career. In that time, he made his mark on a dozen stations and three national networks across North America, serving as a reporter, anchor, host, Sports Director, and Program Director.  However, it is Larry's dedication to the cause of Parkinson's disease that truly sets him apart. Leveraging his years as a skilled storyteller from his radio career, Larry uses his unique talents to raise awareness of Parkinson's disease, battle the stigma surrounding it, normalize its symptoms, and educate and empower people living with Parkinson's.
Larry is not just active within the PD Avengers community; he's also a familiar voice to The Michael J. Fox Foundation (MJFF). He hosts podcasts, webinars, and Parkinson's IQ + You events for the Foundation.
Beyond his roles in advocacy and awareness, Larry is the co-host of the podcast "When Life Gives You Parkinson's," a platform where he and Rebecca candidly share their journey with PD. They address the emotional, humorous, and challenging aspects of coming to terms with a diagnosis, adapting to changing roles, navigating communication issues and facing an uncertain future while raising a teenager.
---
The MJFF Patient Council was established in March 2009 as a formal channel for the Foundation to solicit input from PD patients and the broader Parkinson's community. The Council advises the Foundation on programmatic fronts including (but not limited to) strategies to best convey patient priorities to the research community and its funders; content and emphasis for patient education and outreach relevant to MJFF's mission to find a cure; patient roles in developing novel ways to conduct research; and mechanisms for impact assessment.