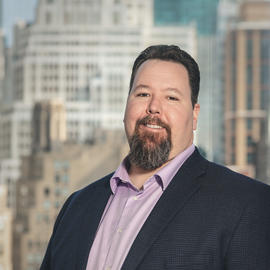 Larry Gifford has spent nearly 30 years on radio and is currently the National Director of AM Radio for Corus Entertainment in Canada.
In this position, he coaches on-air talent on Global BC and BC1 TV and oversees programming and operations for CKNW-AM and CHMJ-AM radio stations. He was diagnosed with young-onset Parkinson's disease in August 2017 at the age of 45. Larry is active with the Parkinson's Society British Columbia and sits on the board of directors for the Pacific Parkinson's Research Institute. He believes in the power of storytelling hosting, "When Life Gives You Parkinson's," a podcast that documents his experience living and working with PD, which was a finalist for the Canadian Podcast Awards.
---
The MJFF Patient Council was established in March 2009 as a formal channel for the Foundation to solicit input from PD patients and the broader Parkinson's community. The Council advises the Foundation on programmatic fronts including (but not limited to) strategies to best convey patient priorities to the research community and its funders; content and emphasis for patient education and outreach relevant to MJFF's mission to find a cure; patient roles in developing novel ways to conduct research; and mechanisms for impact assessment.