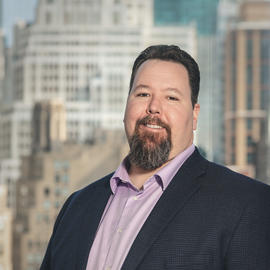 Larry Gifford has spent nearly 30 years on radio and is currently the National Director of AM Radio for Corus Entertainment in Canada.
Larry Gifford was diagnosed with young-onset Parkinson's disease in August 2017 at the age of 45. He and his partner-in-Parkinson's and life, Rebecca, can trace initial symptoms of the disease back to the year 2000. Born and raised in Ohio, they've moved across North America through eight cities and now, with teenaged son Henry, live in Vancouver, B.C. Canada. Larry's career in radio has spanned three-decades, a dozen stations and two networks across North America as a reporter, anchor, host, Sports Director, and Program Director. Currently, he serves as National Director of Talk Radio for Corus Entertainment.
Larry is a familiar voice to The Michael J. Fox Foundation (MJFF) community as he hosts podcasts, webinars and Parkinson's IQ + You events for the Foundation. He is President and cofounder of the Global Alliance to End Parkinson's Disease, better known as PD Avengers. Leveraging his years on-air as a storyteller, he uses his talent to raise awareness of Parkinson's disease, battle stigma, normalize the symptoms and help to educate and empower people with Parkinson's. He's a go-to guest on Parkinson's issues for podcasts, radio shows, TV news outlets, and is a frequent speaker at Parkinson's conferences and events.
Larry and Rebecca joint host the podcast When Life Gives You Parkinson's, which honestly, emotionally, and hilariously documents their experiences with PD as a couple coming to terms with diagnosis, role changes, communication issues, and an uncertain future while raising a teenager.  Larry is a founding member of Tightrope Theatre's Improv for Parkinson's Performance Troupe, the first all-Parkinson's Improv Troupe in North America.  He is on the Editorial Board for the Journal of Parkinson's Disease and is an ambassador for the World Parkinson Congress 2023 in Barcelona, Spain. Larry worked with the World Health Organization (WHO) on Addressing the Public Health Importance of Parkinson's Disease. He co-authored the WHO technical brief Six Action Steps to Address Global Disparities in Parkinson Disease A World Health Organization Priority, which was published in the Journal of American Medicine (JAMA) Neurology. Larry also co-authored  The Silver Lining of Parkinson's Disease published by Journal Nature | NPJ Parkinson's Disease.  
---
The MJFF Patient Council was established in March 2009 as a formal channel for the Foundation to solicit input from PD patients and the broader Parkinson's community. The Council advises the Foundation on programmatic fronts including (but not limited to) strategies to best convey patient priorities to the research community and its funders; content and emphasis for patient education and outreach relevant to MJFF's mission to find a cure; patient roles in developing novel ways to conduct research; and mechanisms for impact assessment.