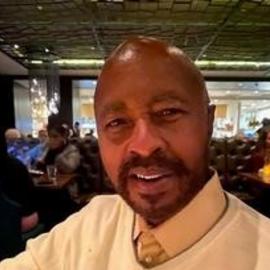 Leonard Chandler is actively involved in helping advance progress for those living with Parkinson's disease. After being diagnosed with Parkinson's in 2014, he began participating in Parkinson's research.
Leonard views research participation as an opportunity to contribute to the larger effort to eradicate this disease from among us. He is currently actively participating in a PD research study at the University of Alabama at Birmingham (UAB).

He is a United States Air Force veteran who served during the Vietnamese conflict. He was in Saigon during the last Tet Offensive. After seeing the effects of war up close, he became convinced that war, as a means to end conflict, should be the absolute last resort to address differences.

Leonard achieved a degree in business from California State University at Long Beach. Subsequently, he attended Pepperdine University for an MBA. His work pursuits have been diverse. Leonard was involved in sales within the snack food industry, the dairy industry and retail supermarket sales. He is currently semi-retired, having shifted his focus to the cattle industry. He is now a producer of beef cattle (International Red Brangus). Leonard started his ranch with this breed as a focus.

Leonard is generous in sharing his voice and experience to the Parkinson's field. If his participation can help create a world without Parkinson's, for future generations, then he wishes to do so.