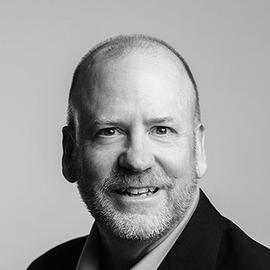 "My goal as a member of the Patient Council is to help develop an interactive patient-centric team model for Parkinson's care."
For 24 years, M. Daniel (Dan) Suwyn was a newspaper editor and media executive for Gannett, Knight-Ridder and Morris properties all across the country. In 2002, at the age of 39, Dan was diagnosed with Parkinson's disease and stepped away from his media career to study the workings of the brain. The more he learned about the brain's processes, the more practical applications he saw for leaders, managers and organizations.
In 2005 Dan became the president and chief storyteller of the Rapid Change Group, a communications, leadership and employee engagement firm that combines business best practices with the latest findings in neuroscience. The company counts Fortune 500 companies and exciting start-ups among its clients.
He and his wife, Kim, live in Savannah and have been active with The Michael J. Fox Foundation since early in Dan's diagnosis. They are also working with Dr. Kapil Sethi to develop the Life Focus Center for Parkinson's Disease at the Medical College of Georgia.
---
The MJFF Patient Council was established in March 2009 as a formal channel for the Foundation to solicit input from PD patients and the broader Parkinson's community. The Council advises the Foundation on programmatic fronts including (but not limited to) strategies to best convey patient priorities to the research community and its funders; content and emphasis for patient education and outreach relevant to MJFF's mission to find a cure; patient roles in developing novel ways to conduct research; and mechanisms for impact assessment.