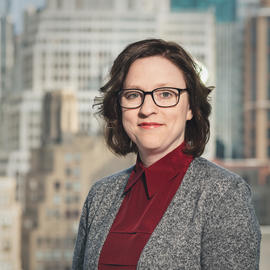 "Working with the Patient Council and fundraising with Team Fox has helped me live with this disease. I can't change the fact that I have Parkinson's, but I can help change what being a patient with Parkinson's will look like in years to come!"
Nicole Jarvis is an OB/GYN physician in private practice in her hometown of Norman, Oklahoma. In 2011, at age 38, Nicole was diagnosed with young-onset Parkinson's disease.

Since her diagnosis, Dr. Jarvis has become actively involved in the Parkinson's community, as she strives to help herself and others to live positively with a diagnosis of PD. She serves on the board of the Parkinson Foundation of Oklahoma, and started and leads the state's only support group for young-onset patients.
She is an active fundraiser for Team Fox and serves as a mentor to other members. In January 2013, Nicole founded her own organization, The Nicole Jarvis MD Parkinson's Research Foundation, Inc. Through year-round fundraising efforts and hosting four Winter Galas, her foundation has donated over $750,000 to Team Fox and over $50,000 to the Parkinson Foundation of Oklahoma.
In 2013, Dr. Jarvis gave a TED talk at TEDxOU titled "The Power of Connections and Redefining Purpose in the Face of Potential Devastation." She discussed how becoming involved in Team Fox and her local Parkinson's community has connected her with new people and ways to live well with PD and to help find a cure. She believes that clinical trial participation is essential to meeting these goals and has participated in several online as well as in-person clinical trials, including through Fox Trial Finder.

Dr. Jarvis is extremely devoted to her community, her patients and her family. She is the mother of twin boys, Zachary and Ryan. The twins, as well as Nicole's entire family, her patients and fellow Oklahomans, have rallied around her to support advocacy efforts and to help speed a cure.
---
The MJFF Patient Council was established in March 2009 as a formal channel for the Foundation to solicit input from PD patients and the broader Parkinson's community. The Council advises the Foundation on programmatic fronts including (but not limited to) strategies to best convey patient priorities to the research community and its funders; content and emphasis for patient education and outreach relevant to MJFF's mission to find a cure; patient roles in developing novel ways to conduct research; and mechanisms for impact assessment.