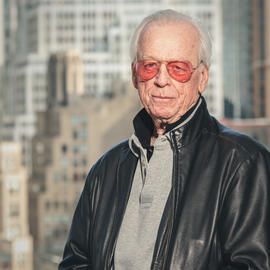 Bill Wilkins is cofounder of Wilkins Parkinson's Foundation and a media executive. He was diagnosed with Parkinson's disease in 2006.
His background in media and advertising began in 1960 in Los Angeles. He held key executive positions in Las Vegas and nationally with Donrey Media. In 1980 he joined the Institute of Outdoor Advertising (IOA) in Chicago and a year later became the first President of the IOA in New York City to come from within the industry itself. He founded Wilkins Media Company in Atlanta in 1987, and in 25 years grew the business to become the oldest, largest independent out-of-home media specialist in the country.
After his diagnosis, he became an activist for the Parkinson's community through involvement with the Atlanta chapter of APDA. He has also supported the Parkinson's Unity Walk annually since 2009 by negotiating discounted media programs on the Walk's behalf.

In 2010, Bill formed the Wilkins Parkinson's Foundation (WPF) as a natural transition to expand awareness of PD and to help accelerate the cure and treatment of Parkinson's disease through research funding. Its strategies include directing funds to research and education, working to increase collaboration between other PD nonprofits, and advocating on behalf of the entire PD community. Together with fundraising partner Team Cantore, WPF has raised over $1.3 million for Parkinson's research and awareness.
In 2014, Bill became one of the "PD 4," a group of involved patient advocates from four states who organized the "Parkinson's Disease Southern Symposium" in South Carolina. This four-day educational event welcomed attendees from across the country and featured widely recognized speakers. Bill has also been appointed a charter member of Emory University's Udall Parkinson's Disease Research Center's Community Outreach Board.
He has received numerous awards for his work galvanizing the PD community, including the Wesley Woods Foundation's "Key to the Cure" award and the Alan Bonander Humanitarian Award.
Bill also serves on the Unified Parkinson's Advocacy Council, which shapes The Michael J. Fox Foundation's perspective in the advocacy arena and serves as an outlet for community engagement.
---
The MJFF Patient Council was established in March 2009 as a formal channel for the Foundation to solicit input from PD patients and the broader Parkinson's community. The Council advises the Foundation on programmatic fronts including (but not limited to) strategies to best convey patient priorities to the research community and its funders; content and emphasis for patient education and outreach relevant to MJFF's mission to find a cure; patient roles in developing novel ways to conduct research; and mechanisms for impact assessment.