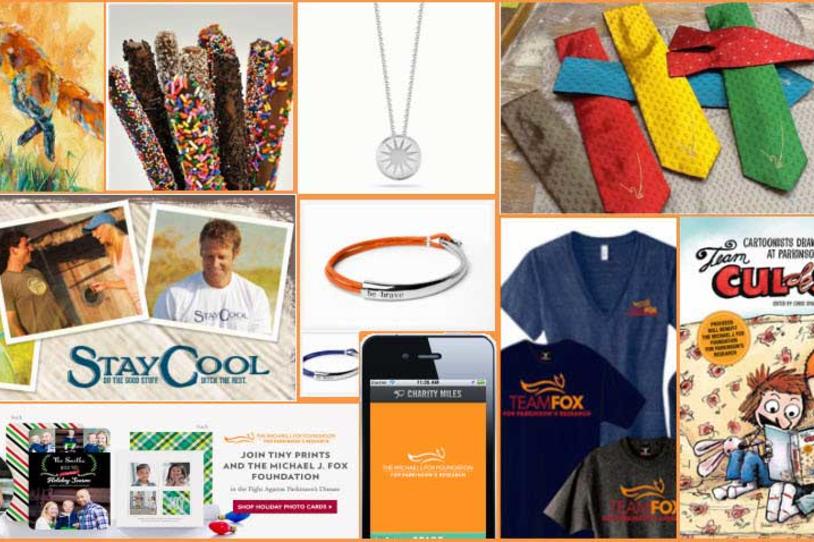 The holiday season is all about giving. By now, you are probably considering who is on your gift list this year. To make shopping easier — and more meaningful — we put together a list of 10 Gifts that Give Back to The Michael J. Fox Foundation.
FOR THE ART LOVER:
1. "Leap of Faith" Fox Painting: Carol Hagan, a renowned artist of the American West, and her husband, Pat, are selling giclée prints of her latest piece, "Leap of Faith." The limited edition prints measure 14" x 14" and will include Carol's signature and a Certificate of Authenticity. Purchase one of these 200 prints for $200, or be one of 20 to own an Artist Proof for $300. All proceeds will be donated to MJFF. Learn more and place an order on the Carol Hagan Studios website.
FOR THE JEWELRY ENTHUSIAST:
2. "Star of Hope" Necklace: Eva and Ava Bai are sisters who started Vale Jewelry. They designed their Star of Hope necklace exclusively for MJFF, in honor of their grandmother who has Parkinson's. All profits from the sale of this piece will be donated to MJFF.
3. Shaking with Laughter's Bravelet: Karen Jaffe organized a special fundraiser with Bravelets to benefit her ongoing Team Fox efforts. Purchase the bold orange or blue bracelets — made of stainless steel and genuine leather — and $10 from each purchase will benefit PD research.
FOR THE FASHIONISTA:
4. B.Necil Neckwear for Men: Randi Smith is the designer, business owner and Team Fox member behind B.Necil, a high-end men's neckwear company. She sells ties, bow ties and pocket squares, all made from the finest Italian silk. To honor her stepfather who has PD, Randi designed the Tulip Collection; ten percent of the profits from their sale will support MJFF. She is taking individual orders via email. Visit her website for contact information.
5. Stay Cool Clothing & Accessories: James Collie recently launched his clothing line, Stay Cool, as a tribute to his father who lived with PD for over 20 years. The company will donate 5% of their net profits to MJFF. And, in the spirit of giving, Collie is offering a 25% discount off all merchandise through the end of the year, or while supplies last. Visit the website — www.staycool.co —to learn more.
6. MJFF and Team Fox Gear: Check out the Fox Shop (shop.michaeljfox.org) to see a variety of MJFF and Team Fox-branded items, including clothing, wristbands, cookie cutters and much more. All profits are dedicated to driving our robust research programs forward.
FOR THE FOODIE:
7. Pretzels for Parkinson's: What could be better than the saltiness of a pretzel combined with the sweetness of chocolate? A chocolate-dipped pretzel that benefits PD research! In addition to promoting their "Crunch for a Cure" motto, Pretzels for Parkinson's serves to educate their customers about PD while supporting The Michael J. Fox Foundation.
FOR THE COMIC BOOK FAN:
8. Team Cul de Sac: Cartoonist Draw the Line at Parkinson's: Team Fox member Chris Sparks spent two years putting together this book, which includes original artwork from famed cartoonists, artists, illustrators and animators. Each entry is an interpretation from Richard Thompson's Cul de Sac comic strip. Richard is one of Chris' closest friends and was diagnosed with Parkinson's in 2009. A portion of the book sales will be donated to MJFF. Visit Chris' website to learn more.
FOR THE CAUSE ITSELF:
9. Holiday Cards from Tiny Prints: Still need to order your holiday cards? Send personalized Tiny Prints cards that support MJFF. To ensure that your order benefits the Foundation, use this link to get started: http://www.tinyprints.com/promo/michael-j-fox-foundation.htm. Tiny Prints will donate up to 15% of your purchase to help us find a cure for PD.
10. Charity Miles App: Calling all iPhone and Android users! Download the Charity Miles app to make your next workout even more impactful. Select your activity (walk, run or bike), choose your charity (swipe through for The Michael J. Fox Foundation listing), then press start. The app will track your mileage using your phone's GPS. Bikers earn 10-cents per mile, walkers and runners earn 25-cents per mile.