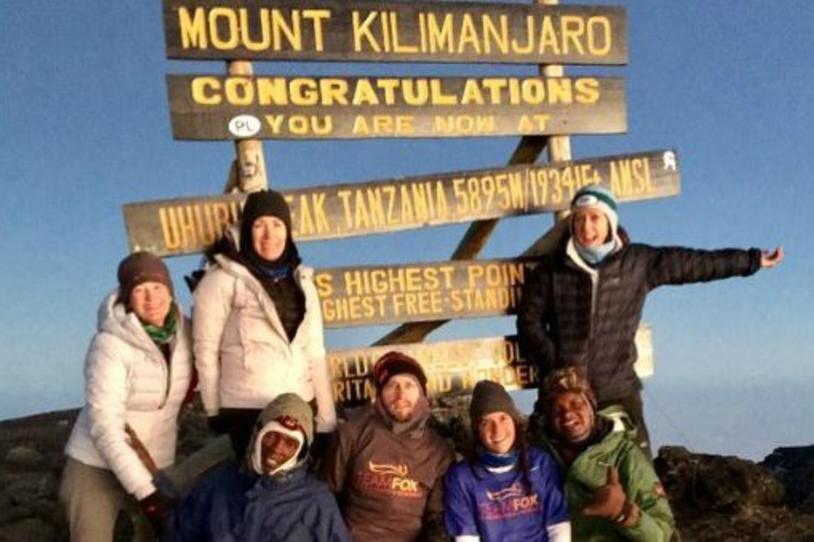 When I first learned that I would be part of the Team Fox climb to Mount Kilimanjaro, I was overjoyed. For five minutes. As a Michael J. Fox Foundation staff member and lover of the outdoors, I was ecstatic at the opportunity to marry my commitment for curing Parkinson's disease (PD) with the opportunity to hike the "roof of Africa."  
But then reality set in. I had to raise $10,000 and climb 19,341 feet! How do you even begin? The answer, I soon discovered, was community.
I started my fundraising by making a donation to myself and posting it on every social media platform where I had a login. I asked friends to share and sent personal emails to family members. Slowly but surely, small donations came in.
When, after a month or two, my fundraising plateaued, I wrote to local businesses to help me hold a raffle. I was shocked by their generosity: I held two successful raffles that brought in over $3,500. I could feel momentum building again. My hometown paper wrote a piece about my efforts, helping me reach new donors and pushing me over the $10,000 threshold.
When I surpassed my fundraising goal, I had another five minutes of delirious joy. Then I remembered I was still about to climb the tallest freestanding mountain in the world. Could I hike above 19,000 feet? Would I actually make it to the summit? After spending most of the winter at the gym, I met two Team Fox members in the area who would be hiking with me. Come spring, we began hiking almost every weekend together.  Our training, coupled with the strong bond we developed, eased many of my doubts. With just under a month to go, we knew we were Kilimanjaro ready!
On August 10, the three of us joined seven others at the foot of the mountain. Though we shared the same cause, we came from all over the United States to do this climb. Over the next eight days together, we laughed, cried, and felt gratitude. We played music through a speaker and danced our way up the mountain. We commonly repeated the Swahili word for together -- "pamoja" -- whenever a team member was feeling sluggish or sick. No matter what, we were doing this climb pamoja. 
The trek was unbelievably beautiful, and at times treacherous. When I felt exhausted after six consecutive hours of hiking with 50 percent of the oxygen available at sea level, I also knew that I had teammates, friends, colleagues, my hometown, the PD community and Team Fox behind me  -- and it carried me through.
When I finally summited Uhuru Peak, Africa's highest point. I was overwhelmed -- I'd toiled through the most physically arduous journey of my life, helped the Foundation fuel better treatments and a cure for Parkinson's -- and found a new family.
Interested in joining Team Fox for a once in a lifetime trek to raise money for Parkinson's research? Email athletes@michaeljfox.org for more information on joining Team Fox for a 2018 Kilimanjaro climb!