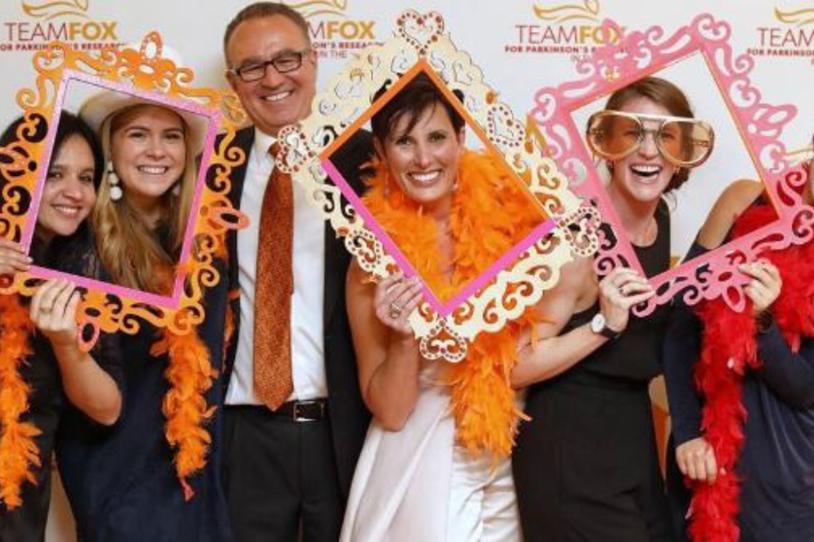 Each January, our team takes a moment to humbly reflect back on the incredible efforts of our collective Team Fox community. It's one of our favorite New Year's traditions, and one that we hope brings you as much joy and inspiration as it does us. While there is still much work to be done in our mission to cure Parkinson's, let's not forget the great strides made over the last twelve months.
By the numbers, here are just a few of the many ways our Team Fox members made 2017 extraordinary:
887,120: The incredible amount raised at the 10th Annual New England Parkinson's Ride, topping our leaderboard yet again as the #1 single-day fundraising event four years running! Over 1,000 cyclists pedaled closer to a cure throughout beautiful southern Maine, bringing the ride's lifetime fundraising total to over $3.3 million.
169,142: The collective amount raised by the 11-member Mt. Kilimanjaro expedition team in August! Following months of training (and creative fundraising), this stellar crew laced up to take on all 19,341 feet of Africa's highest peak ... earning $8.74 for every foot climbed! Intrigued? Apply now to join us in August 2018!
148,308: The number of views on the official YouTube clip of Team Fox member Jimmy Choi's historic run at the Kansas City Qualifiers of American Ninja Warrior, NBC's obstacle course competition. At MJFF, we've known for some time that Jimmy--a member of MJFF's Patient Council--is a true warrior, and on July 3, he inspired millions of viewers and showed the world why.
5,589: The number of active Team Fox members who stepped up to raise funds and awareness for research in 2017. 
5,369.2: The number of miles collectively run and walked through the Team Fox Fox Trot 5K Series. Featuring events in Los Angeles, New York, Boston and San Francisco, this growing program raised $430,000 and welcomed over 1,700 participants ... and a few dozen pets, too!
1,568: The number of studio photos taken for guests at Team Fox member Diana Levine's Photoshoot for a Cure in Boston, MA. With over 300 guests in attendance, the event raised $33,983 for Team Fox!
1,221: The number of cyclists who joined the 2017 Tour de Fox Series, taking on distances ranging from 10-75 miles! We loved seeing familiar faces at return stops in Vancouver, Cleveland and Santa Rosa, and soaked up the beautiful Blue Ridge Mountains of Greenville, South Carolina for the newest addition to our Tour!
536: The number of Team Fox athletes who ran, biked and swam in one of our 15 sponsored athletic events. From infamous Alcatraz Island in the San Francisco Bay to the five boroughs of New York City--and let's not forget the streets of Toronto, Berlin and London! -- these athletes proudly sported their Team Fox jerseys while using their miles for good. An extra high-five to the 10+ Team Fox athletes who laced up to take on two or more sponsored races over the course of a single calendar year - you rock.
417: The number of unique, create-your-own events held by our Team Fox community. From classical concerts and masquerade balls to spin-raisers and guest bartending competitions, Team Fox members transformed their passions and creatively raised the bar, yet again.
10: The number (in millions!) that Team Fox members collectively raised for Parkinson's research, 100 percent of which went directly to research programs to speed a cure.
2: The number of Team Fox members, both living with Parkinson's, who ushered in the New Year by continuing their cross-country treks across the United States to raise funds and awareness for Parkinson's research. Bill Bucklew and Tommy Dellinger, you sure know how to set a high bar, and we are SO inspired by your dedication and drive.
1: The number of Team Fox events to join the elite $1 million club for historic funds raised for Team Fox. Congratulations to long-standing Team Fox members Karen and Marc Jaffe and their Shaking with Laughter Committee. Following an outstanding 6-year run, Shaking with Laughter's final night of comedy and music was made all the more memorable as historic funds raised crossed the $1 million mark.
But that's not all! Throughout the course of the year, our Team Fox community also looked the part of truly foxy fundraisers. Take a look at the below gallery to see how 2017 was full of that infectious Team Fox spirit!
As of January 1, our fundraising numbers have officially reset to $0, and we know it will take both time and teamwork to once again up the ante. But fueled by the unwavering drive, dedication and creativity of our Team Fox community, we're more excited than ever to dig in alongside each of you to make 2018 the biggest and most impactful year for Parkinson's research yet.
Inspired? There's no better time to join the hundreds of community members who have already registered to join the team and make an even larger impact in 2017. Learn how you can get involved today.