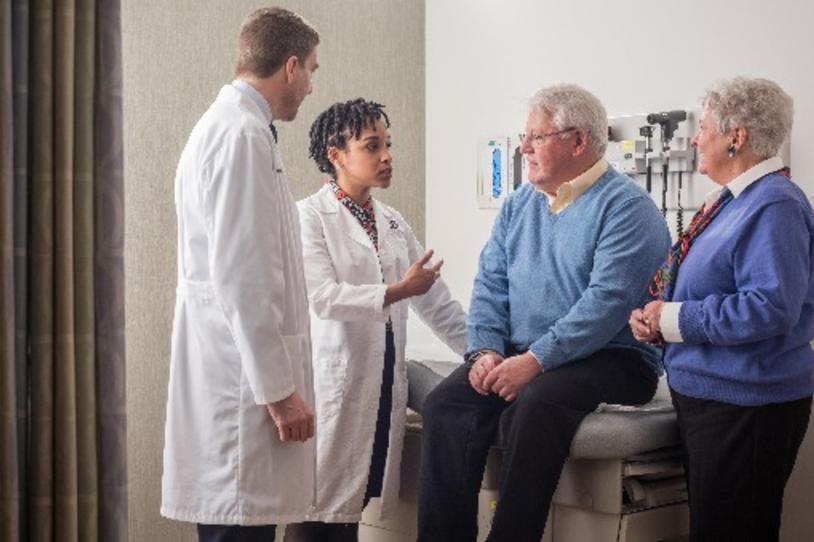 The moment in your doctor's office when you get a Parkinson's diagnosis usually comes as a shock. Without much background knowledge of the disease, it can be difficult to know the best questions to ask after hearing the news.
If you or a loved one have been recently diagnosed, these five questions from our community may help get your treatment on the right track at your next appointment.
Several questions focus on the importance of finding support outside of the doctor's office. As community member Sara Rigarre pointed out, "I visit my neurologist two times a year, for about 30 minutes. The rest of the year's 8,765 hours, I spend in taking care of myself the best way I can."
And regardless of when you were diagnosed, staying organized and tracking symptoms can help you have a more productive and informative conversation any time you see your doctor or another allied care professional.
1. "Where I can find support in this area?" 
Your doctor can point you and your family towards support groups, exercise classes for people with Parkinson's and other local organizations. You can also look for fundraising events in your area through Team Fox, and see if Partners in Parkinson's educational events are coming to a city near you.
2. "Besides taking medication, what else can I do to preserve my quality of life?"
In general, the earlier a person with Parkinson's starts an exercise program, the better. Your doctor can help you connect with a physical therapist who works with the Parkinson's community, and suggest other proactive steps that can be taken.
3. "Where can I find a movement disorder specialist?"
A movement disorder specialist is a neurologist with additional training in Parkinson's disease. These specialists can help you develop a treatment plan that's right for you. You can also search for one in your area using the Partners in Parkinson's Movement Disorder Specialist Finder.
It's also important to remember that Parkinson's disease is often misdiagnosed. Thanks to their experience and additional training, movement disorder specialists can offer the most accurate diagnosis.
4. "What other specialists can help me manage my care?"
Many people with Parkinson's find value in working with allied care professionals such as dietitians, physical therapists and speech therapists.
5. "In general, what symptoms should I be on the lookout for?"
Because Parkinson's disease is different for everyone, this question is difficult for doctors to answer. However, it can still be helpful to hear an overview of the symptoms many people with Parkinson's experience over the course of the disease, including non-motor symptoms like depression and anxiety.