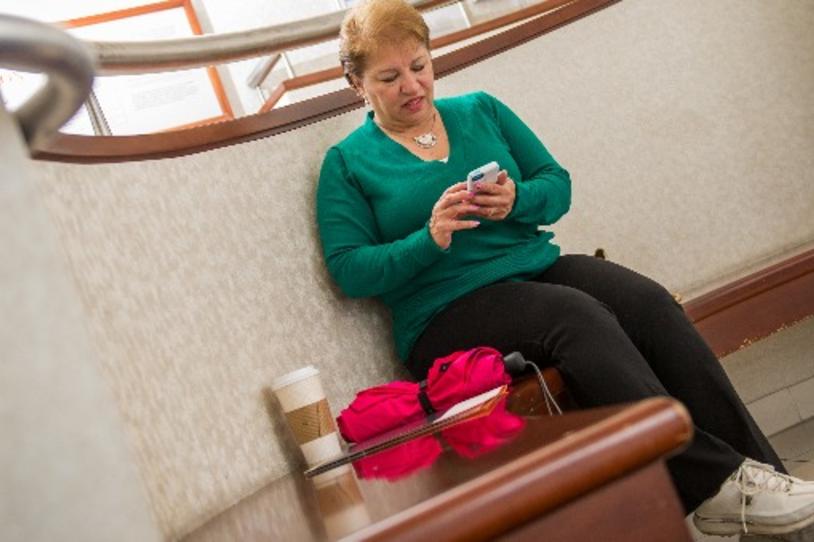 Stress can be a natural result of navigating a Parkinson's disease diagnosis and managing Parkinson's care. Besides interrupting sleep and appetite, stress can also exacerbate Parkinson's symptoms like dyskinesia.
If you have a smartphone or tablet, there are several apps to help you relax or take your mind off your stressors. Whether your favorite way to de-stress is to strike a few a few yoga poses or dive into a challenging puzzle, there's probably a fun app for you. 
1. Calm and Get Some Headspace 

Calm is a meditation app that offers several free guided meditations, soothing background sounds and reminders to take a break throughout your day. Studies have suggested that meditation may help manage symptoms of anxiety, depression, sleep problems and even pain and high blood pressure. Get Some Headspace offers similar features and is also available on Android devices. Headspace also lets you record your meditation sessions and monitor your progress.

Cost: Calm, for iOS: Free; Get Some Headspace, for iOS and Android: Free

2. Sleep as Android and Sleep Cycle

For Android and iPhone, respectfully, these apps track your sleep overnight and show graphs of your sleep patterns over time. Both apps also function as alarm clocks, and will wake you up with soothing nature sounds or soothing music. Sleep Cycle can track your tossing and turning, and Sleep as Android monitors sounds in the room to catch your snoring, talking in your sleep or even catch potential sleep apnea.

Cost: Sleep as Andriod, for Android:  Free; Sleep Cycle, for iOS: $.99

3. Daily Yoga

With a database of more than 400 poses, this app offers guidance to beginners and advanced yogis alike. Yoga can be a great way to relax before bed, stretch tired muscles and get a good workout, too. Like always, talk with your physician before starting a new exercise regime.

4. Braingle

If you're feeling stressed, try channeling your energy into one of Braingle's 15,000 brain teasers, riddles, logic problems, mind puzzles and optical illusions. The jury is out on whether or not brain games boost cognitive function, but they're at least a fun way to spend a few minutes away from your worries. Don't have an iPhone? Check out Braingle.com for a full catalogue of games and puzzles.

Cost: Free, for iOS 

5. Happify

Like the brain-training website Lumosity, Happify aims to change the way you think through activities and games, this time with the goal of building a happier you. Start by choosing a happiness track – free options include "Conquer your Negative Thoughts," "Cope Better with Stress" and "Grow Your Inner Strengths" – then complete weekly activities that aim to hone happiness skills. The app also hosts articles and community features so you can connect with others who are working to maintain a more cheerful mindset.

Cost: Free, for iOS. Also available on the web at www.happify.com

 

6. Fig

The Fig app describes itself as "your personal wellness guide for body and soul." It allows you to track progress on a wide variety of activities, from eating healthy to drinking enough water, and even calling your family  and saying thank you. You can tell the app how many times a day or week you'd like to complete the activity and receive reminders when you need them.

This popular app combines the mood-boosting powers of both exercise and giving back. You can program the app to give to non-profits, including this one, whenever you walk, run or bike. The app donates $.25 per mile walked or run, and $.10 per mile biked.