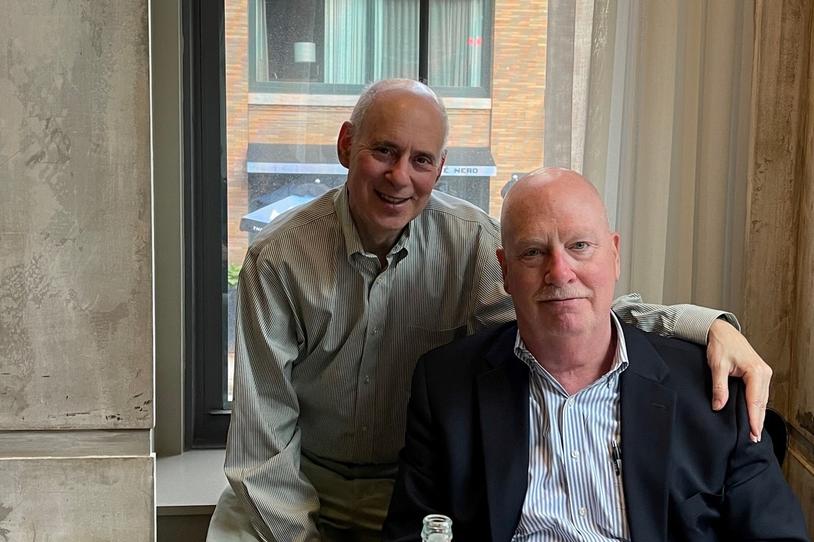 Editor's Note: The Foundation is always seeking to grow its diverse community of people touched by Parkinson's disease. If interested, please email your story to shareyourstory@michaeljfox.org along with the best contact information to reach you. We may share your story in future communications. 
In celebration of Pride Month — a time to recognize the valuable contributions of the worldwide LGBTQ+ community and commemorate the Stonewall Inn uprising of June 1969 in our hometown of New York City — The Michael J. Fox Foundation (MJFF) is once again celebrating this month by featuring the stories of Parkinson's disease (PD) community members who identify as part of the LGBTQ+ community. 
Hyam Kramer, 62, a retired fundraising and finances professional, from Boston, Massachusetts, and his husband Tom, 68, have taken life's obstacles with resilience, faith and optimism.  
It was fall of 2015 when Hyam began noticing some motor symptoms, including tremors in his legs. Hyam recalls his mother and uncle's journey living with PD and didn't want to think about the possibility of the disease impacting his life — especially as he and Tom were getting ready for their wedding.  
It was also during this time that Tom was diagnosed with advanced prostate cancer. "It was an overwhelming period," they both recall.  
After a series of symptoms and months of visiting doctors, Hyam officially received his Parkinson's diagnosis in 2016. Putting off the wedding to focus on each of their care plans, Hyam leaned on both of his and Tom's faith backgrounds — Catholicism and Judaism — to find words of acceptance and action toward next steps. 
"After I had been diagnosed, I repeated a homily daily: 'Act out of love. Not out of fear.' And I really just sort of sat there for a while and I started challenging myself. I realized I needed to embrace this," recalls Hyam.  
Hyam's neurologist introduced him to MJFF's landmark brain health study, the Parkinson's Progression Markers Initiative (PPMI). The study follows participants over time to learn more about how disease starts and changes. Hyam learned the critical importance of recruiting study volunteers who were recently diagnosed and not yet taking PD medication and jumped on the opportunity to participate. 
"You deal with the cards you've been dealt with. There are no do-overs. So, you can sit at home, watch TV and do nothing or you can get off your butt and be a constructive force for change," says Hyam.  
(If you're recently diagnosed and not yet taking PD medication, call 877-525-PPMI or email joinppmi@michaeljfox.org to get started today.)  
In the summer of 2017, Hyam and Tom officially were married and surrounded by loved ones. Looking back, Tom shares:  
"One thing we know for sure is that the more support you have in your life, the easier it is to deal with illness. We're both blessed that we have friends in our community and family who check in." 
Today, Hyam and Tom continue each of their respective health journeys and guide others in the LGBTQ+ and Parkinson's community toward acceptance and action.  
"We've prospered cultivating relationships that aren't defined by our sexuality but instead by who we are as people. We have each of our own journeys, but we can support each other," says Hyam.  
(Join MJFF's Parkinson's Buddy Network platform, where people and loved ones with PD can engage in important dialogue, join groups like our LGBTQ+ Parkinson's community, find useful resources and build long-lasting relationships.) 
On access to equitable care and the continued work to break down stigma, Tom shares: "We've personally been so blessed that we are able to walk into any hospital or doctor's office with each other. It shows just how far our community has come and continues to fight in terms of seeking equal rights." 
(To date, most PD research has not been fully representative of all people who live with the disease. As a result, our understanding of how PD affects people living with the disease and their families across diverse backgrounds, of different races, ages, ethnicities, gender and sexual orientation is incomplete. MJFF is funding multiple initiatives with doctors, scientists and patients to make research more inclusive. Recently, MJFF funded a team at the University of Nevada working with the LGBTQ+ community to learn about the health needs of individuals with PD. The study is actively recruiting participants to help improve the health and care of LGBTQ+ people with PD. Surveys and interviews can be done by phone at 1-888-709-7689 emailing the principal investigator of the study, Jason Flatt, PhD, MPH at Jason.flatt@unlv.edu.) 
Reflecting on their future and their unconditional love for each other, Hyam shares:  
"I think one of the main concerns for people living with Parkinson's and being part of the LGBTQ+ community is the fear of losing their caretaker. I'm not Superman, I don't know how anyone could go through this journey without having someone like Tom in their corner. He's like a football coach with a game plan."  
(No matter where you are in life or with Parkinson's, it may be helpful to think about and plan for the future. Get step-by-step guidance, information and tips for considering the future, making plans and talking with loved ones in MJFF's guide: Looking Ahead with Parkinson's.) 
This Pride Month and beyond, MJFF celebrates the stories of people living with Parkinson's, their loved ones, researchers, advocates and supporters — speeding progress towards a cure, together. Register now for a webinar co-hosted by MJFF and SAGE on September 14. Expert panelists will discuss Parkinson's disease in the LGBTQ+ community. 
Join us on MJFF's Facebook, Twitter and Instagram channels to share your story on navigating life with Parkinson's to help support others on the journey.