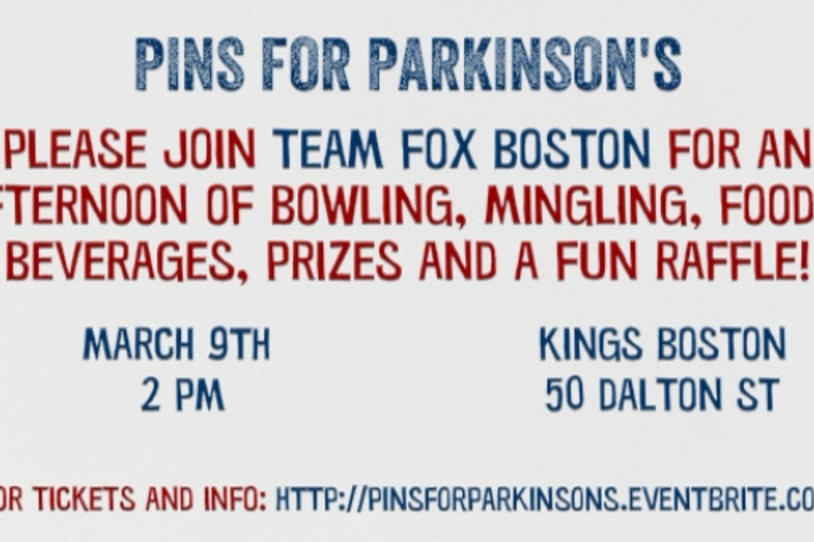 Attention Bostonians!  Please join the Team Fox Young Professionals of Boston at Kings Bowling Alley, March 9th, for an afternoon of bowling, mingling, food & beverages, prizes and a fun raffle! All proceeds to benefit the Michael J. Fox Foundation for Parkinson's research!
When was the last time you made it out to the local lanes for a roll? With all proceeds going directly toward finding a cure for Parkinson's disease, it's a win-win. Come support a great cause, help the Boston YPs spread awareness, and ultimately have a great time with members of the Boston community.
Please register and find additional information on the Eventbrite page.
Cost of Tickets:
"Spare" Individual Bowler: $75
"Strike" Platinum Bowler: $150*
Registration includes: A round of bowling, plentiful assorted appetizers, unlimited fountain drinks, 2 raffle tickets and other prizes. (Cash bar)
*Bowlers who opt to register at the 'Strike' Bowler level are our biggest supporters. These individuals will be generously recognized at the event and will receive a special gift.
Registration Instructions:
Attendees can register individually, create their own team or join an existing team. If you would prefer to be assigned to a team later, click "Participate as an Individual". If you want to start your own team with friends, click "Create a Team". You will then be prompted to select a Team Name and choose between registering at the "Spare" (regular priced ticket) or "Strike" (platinum ticket) level for yourself. Your friends can then join and choose a registration level.
 ALL TEAMS ARE INVITED TO CREATE THEIR OWN UNIQUE UNIFORM. THE GROUP WITH THE BEST ENSEMBLE WILL BE AWARDED A PRIZE! GET CREATIVE WITH IT!
About The Team Fox Boston Young Professionals of the Michael J. Fox Foundation:
 Established in 2013, The Team Fox Young Professionals of Boston was formed by a small group of driven working people, with a variety of different backgrounds. We came together with the common passion to support the goal of seeking a cure for Parkinson's disease. With that, our group was built on a platform of three underlying themes: Fundraising for Parkinson's research, disease awareness and support for group members who seek to discuss their experiences in connection with PD. The Team Fox YPs of Boston are part of the grassroots community fundraising program at the The Michael J. Fox Foundation.