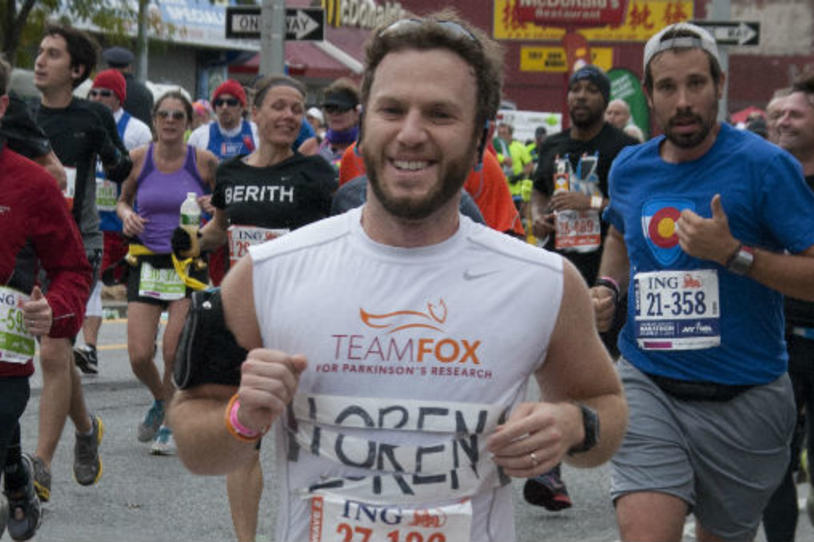 Last summer, The Michael J. Fox Foundation's Leadership Council welcomed four fresh faces to the group. One of the Council's new members is Loren Berger, an old friend of the Foundation.
Berger ran the New York City Marathon for Team Fox in 2008, shortly after his grandfather's  diagnosis with Parkinson's disease. He found the passion and energy of the Team Fox community so inspiring, he was hooked — on running and on MJFF.
In 2009 Berger founded the Team Fox Young Professionals of New York, a group he chaired until 2013, creating a model for proactive groups of 20- and 30-somethings in Boston, Chicago and other cities across the United States. Team Fox Young Professionals groups support each other, engage with the community and fundraise to help speed high-impact research.
"In the beginning, we were throwing stuff against the wall to figure out what kind of events worked best," he said. During Berger's four years as chair, he oversaw the group's annual "Sunday Funday," which caught on and grew into the Young Professionals' signature event. (Sunday Funday has raised more than $35,000 for MJFF to date.)
From there, joining the Leadership Council was a "natural evolution in my involvement both personally and professionally," he said.
Established in 2009, the Leadership Council has 15 members who provide leadership and financial support for the Foundation's research programs while acting as advisors and ambassadors.
"Many of the most active supporters of The Michael J. Fox Foundation are the adult children and grandchildren of people living with Parkinson's disease," Berger said. "The Leadership Council aims to engage this group and provide an outlet to support Parkinson's research in a way that makes sense to us — we have shown it's possible to have fun, raise critical dollars and share scientific information through personal stories."
Leadership Council Chairman Scott Schefrin agrees.
"The Council is made up of individuals at a certain point in their lives and careers who want to financially contribute to — and connect with — MJFF," Schefrin says. "We work to provide opportunities for more Parkinson's families to engage with the Foundation's work and take part in the mission to speed a cure."
Berger's own family story is what inspired him to run that first marathon. When his grandfather first began experiencing symptoms, doctors couldn't diagnose him properly. Vertigo, high blood pressure and several other conditions were considered. With his grandfather passing away shortly after he was finally correctly diagnosed with PD, Berger says the ordeal was frustrating.
"I got involved with MJFF at a time when I definitely needed it," he shares. "It's amazing how welcoming everyone has been of me and my family."
Read this story and more in the 2014 fall edition of The Fox Focus on Parkinson's.