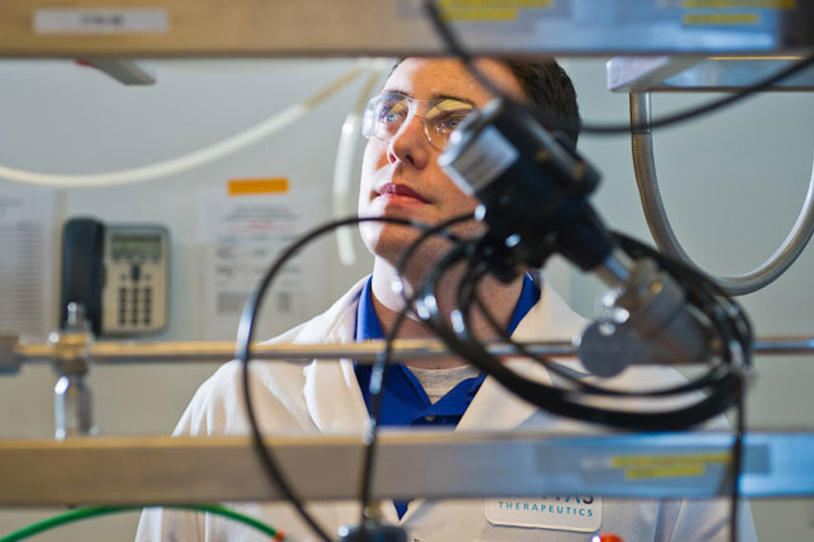 Encouraging news today for Parkinson's patients, and in particular, for those experiencing the often debilitating motor fluctuations associated with the disease.
Chelsea, Massachusetts-based biotech Civitas Therapeutics announced positive clinical trial results for their inhaled formulation of levodopa, called CVT-301. The Phase 2a study showed that, when administered to patients in an "off" state, CVT-301 provided a rapid improvement in motor function for the study's volunteers. The study, which was funded in part by The Michael J. Fox Foundation (MJFF), also continued to show that the drug was safe. 
CVT-301 is designed to work as a sort of "rescue drug" that is taken in conjunction with the traditional pill form of levodopa/carbidopa (sinemet). The idea is that patients would be able to self-medicate by taking a puff from an inhaler when they felt an "off" period coming on. This puff would then bring the amount of levodopa in the bloodstream back to a level that provides a therapeutic effect. The device is similar to an inhaler used to treat asthma, making it convenient — it's small enough to put in a jacket pocket or a purse.   
It's the inhaled formulation of the drug, which comes in capsules that are easily placed into the inhaler, what makes CVT-301 work so fast. "Patients have been shown to respond to CVT-301 in just five minutes after they take it," says Maurizio Facheris, MD, MSc, associate director of research programs at MJFF. 
Here's why: Any drug that is delivered through the lungs goes into the bloodstream faster; this is the nature of how the respiratory system works. It also helps that the drug bypasses the gastrointestinal system, where the food we eat can get in the way of our body quickly absorbing a therapy the way we want it to.  
In this particular study, CVT-301 was administered in a controlled clinical setting, explains Glenn Batchelder, founder and CEO of Civitas. A planned Phase 2b study will soon test the drug in a similar patient group, but it will ask volunteers to take the drug at home, as they would if and when the drug goes to market. A larger Phase 3 study could follow, as soon as 2014.
"We're hopeful that in five years or less, we may have a product that is ready for pharmacy shelves," says Batchelder. 
We'll continue to update you in this space as CVT-301 moves forward in clinical testing. There's still a ways to go until people with Parkinson's might be able to take the drug to help address those "off" periods on a daily basis. 
But in the meantime, "this is great news for a great drug," says Facheris. "CVT-301 has real potential to help Parkinson's patients with the daily management of the disease. Finding such a treatment is, of course, a priority of our Foundation."