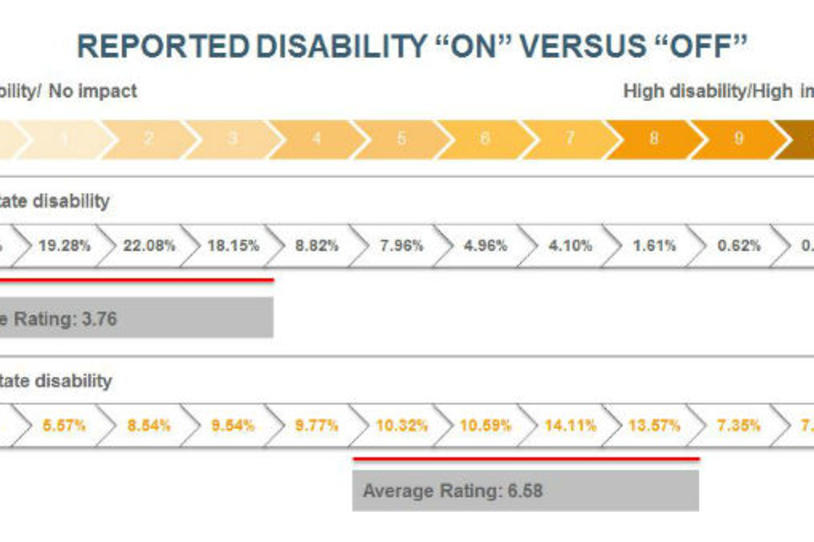 "Patient-centered research" is a buzz phrase in medicine. In fact, there's a whole institute devoted to the practice, which they define as "research that addresses the questions and concerns most relevant to patients."
The Michael J. Fox Foundation has put the needs of patients first since our inception in 2000. We devote our funding dollars to the promising projects that will make a difference in the lives of people with Parkinson's. We foster conversations with regulators like the U.S. Food and Drug Administration, private payers, and government payers like Centers for Medicare & Medicaid Services (CMS) to convey patient priorities. Read about a recent meeting we hosted with payer groups.
Where do we get the information we share on the experience of PD? From you, of course. This summer we asked our email and social communities to take a brief survey on the impact of "off" episodes. With long-term use, Parkinson's medications lose their efficacy, and symptoms may reappear before it's time for another dose. We call these fluctuations in motor abilities "on/off" episodes.
Watch our webinar on "on/off" episodes.
More than 3,000 people with Parkinson's took our survey, teaching us lots about the lived experience of "off" episodes:
More than 90 percent of people reported they have at least one "off" episode per day.
Nearly 65 percent of respondents were "off" for two or more hours per day. More than 20 percent reported "off" greater than four hours.
Close to half of respondents said their "off" times are moderate to severe, causing them to avoid or stop activities they can perform while "on."
The average disability rating was almost twice when describing "off" compared to "on" (see visual below).
These results, as well as patients themselves, have been part of conversations with CMS and payers and with companies working on new therapies to avoid or treat "off" episodes. Statistics like those from this survey of the patient community may influence regulator and payer coverage decisions and help companies guide their research. Read more about some of those treatments in development.
Thank you to all who completed this survey, and we hope if another comes across your inbox or your social feed you'll help us collect more insight into what it's like to live with Parkinson's and where research should focus.