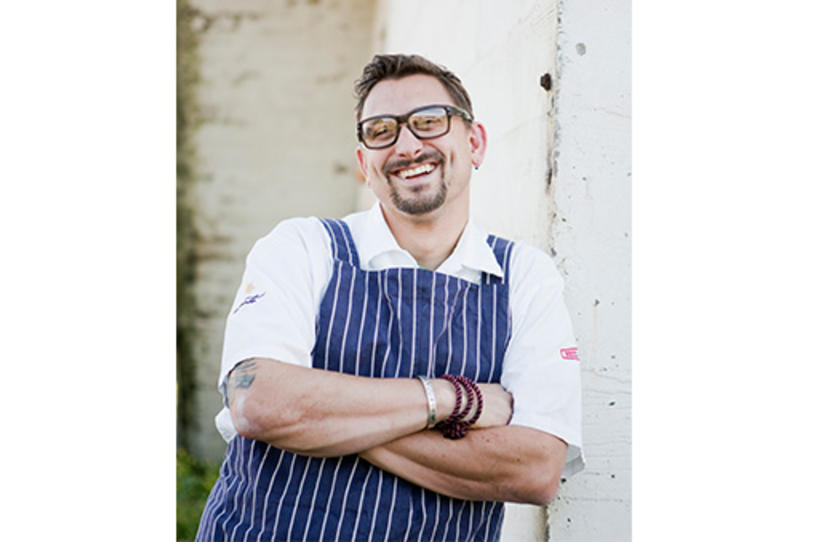 On July 25, alongside nine other award-winning chefs, Chris Cosentino, executive chef at San Francisco's celebrated Incanto restaurant, debuted on Season 4 of Bravo's "Top Chef Masters." In addition to the chance to prove his mettle in one of the world's most-watched cooking competitions, his participation on the show means the opportunity to win $100,000 or more for the charity of his choice. Chris has chosen to compete on behalf of The Michael J. Fox Foundation for Parkinson's Research and use his passion for food to help speed a cure for Parkinson's disease, the second-most common neurodegenerative disease (after Alzheimer's), which affects an estimated 5 million people around the world.
As of September 18, Chris was among the final three chefs in the competition. Check out Top Chef Masters to follow his progress, and tune in Wednesday nights on Bravo to watch him compete. And be sure to vote for Chris as your favorite chef. If he wins, MJFF receives $1 for every vote.
The Foundation spoke to Chris about his connection to Parkinson's disease, what went into the decision to support MJFF, and the chance TV night with his son that played a role in his choice.
MJFF: What is your connection to Parkinson's disease? How has it affected your life?
Chris: My uncle, John Cosentino, had Parkinson's disease, and it was really eye-opening for me to see how it affected him over the course of 30 years. He was such a gregarious person. My parents divorced when I was young, and growing up we spent a lot of family holidays at his home. He even taught me how to play pool in the basement.
While he wasn't affected mentally by the disease, which was a blessing, his physical symptoms became increasingly debilitating. It limited his ability to practice law, which was his passion. It made me think about what it would be like if I could no longer cook, how devastating that would be. He also was always thinking of what he could do for others. He participated in clinical research during his life because he believed strongly that it was one of the best ways he could help others with this disease.
He passed away two years ago from disease-related complications. Even after his death, he helped others by donating his brain to science. I wanted to follow through with that legacy of selflessness. For me, appearing on Top Chef was a great way to honor his memory and keep him close. I felt like he was there with me during the competition.
In addition to my uncle's experience, a close mentor of mine also has Parkinson's, and it so happened that a number of friends had parents with the disease. When I asked myself, 'What am I willing to stick my neck out for?' I knew that if I could support the Fox Foundation's efforts to speed a cure for this thing, I was sticking it out there for the right reasons.
MJFF: Are you a fan of Michael J. Fox?
Chris: Of course! But it's funny, Michael influenced my decision to compete for the Foundation in a really chance way. I was watching TV with my son, who's seven. Back to the Future was on, and right after, he flipped to another channel and there was an episode of "Scrubs" featuring Michael [in his guest role as the obsessive-compulsive Dr. Kevin Casey]. I could see his Parkinson's disease, and that made me curious to learn more about the Foundation. I checked out the Web site. At that time the home page featured the "Don't Sit Still" campaign, which reflected the humor and optimism Michael and the Foundation bring to their work, while never underestimating the challenges. It really stuck with me.
MJFF: Countless people are inspired by Michael, and he in turn is so inspired by the people we meet who are using their passions and talents to support our mission to find a cure. That's really what you are doing on Top Chef. Tell us how you became interested in food and cooking.
Chris: My family really inspired me to become the chef I am today. I was privileged to always share wonderful food with my relatives, especially my great grandmother (my uncle's mother), Rosalie, who was from Naples. I gravitated toward kitchens early on — my first job at age 14 was as a dishwasher at IHOP.
I attended culinary school at Johnson & Wales University, and moved to San Francisco in 1996. In addition to my work with Incanto for the past 10 years, I was a co-creator of Boccalone artisanal salumeria, and last March, I opened PIGG, my tribute to all things pork, at UMAMIcatessen in Los Angeles. I'm proud of helping popularize the "nose-to-tail" movement among chefs, which elevates cooking with offal — the parts of a meat animal used for food that aren't skeletal muscle. I like to celebrate the whole animal, and I love to surprise people by taking something they consider not good and making it amazing. (Learn more about Chris's work at his Web site, www.offalgood.com.)
MJFF: So far, you've won $45,000 for the Foundation. Did you know that regardless of how much you win, you actually won twice that much? Every dollar will be doubled by our $50-million Brin Wojcicki Challenge.
Chris: I didn't know! That is pretty cool. I went to Las Vegas to get a job done, and to do it for the right reasons. No matter the ultimate outcome, I can look myself in the mirror.