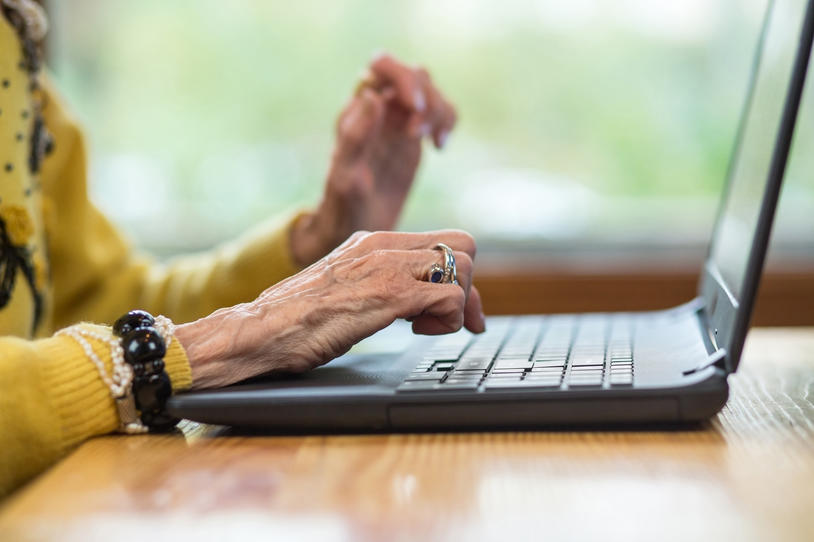 Guest blogger and career and professional development consultant Marti Fischer shares her advice for people with Parkinson's: how to maximize virtual communication and connections, which are the "new normal" for work, doctor appointments, social visits and holiday gatherings.
In March, we went inside. Happily, technology provided the video tools to communicate from home. Although many of us have a love/hate relationship with video calls, we can agree that video provides safe, immediate access to colleagues, loved ones and even health care providers, without the hassle of travel. With video technology we may feel less isolated and lonely. Today, we're using video to work, go to school, see our health care providers, catch up with friends and family, and attend holiday gatherings in a socially distanced world. Many are even using video to participate in research. Even with a coronavirus disease (COVID-19) vaccine on the horizon, it seems clear that video communication is here to stay.
For people with Parkinson's disease (PD), especially those whose symptoms affect facial expression or speech, communicating over video may represent a challenge. Yet, there are benefits worth exploring. On video, people with PD can improve how they connect with others by curating how they look and sound. Dan Kinel, a person living with Parkinson's and long-time supporter of The Michael J. Fox Foundation, was an invaluable resource for this article. As a partner in a law firm who is involved with many organizations as a volunteer, he says, "Video calls have a lot to offer people with Parkinson's. They are a more efficient way to communicate, and because you can see yourself, you can correct how you look in the moment." Our conversations provided the foundation for the advice below.    
Video Tip #1: Curate How You Look
On video, your head and shoulders are visible, so good posture is important to looking engaged and energized. Good posture also makes it easier to take deep, relaxing breaths to settle any extra movements or nerves. (Easier said than done for some with PD, but a physical or occupational therapist can help with posture, if necessary.) If you sit for video calls, choose a chair with good back support and arms to prevent leaning to one side. A chair with arms also offers a place for your hands to rest, which may be helpful if you experience hand tremors. Finally, create a more intimate connection with your audience by leaning forward toward the camera. 
If you use Zoom, you can check how you look before a call begins by clicking the New Meeting tab. Then you can move forward or back and adjust your camera to center yourself on screen.
This is another Zoom trick, and my personal favorite. In the Settings menu, click the Video tab, under My Video, you'll see two prompts, "Touch up my appearance" and "Adjust for low light." These soften facial features and adjust ambient light allowing you to always look your best onscreen - thanks Zoom!
Improve Your Nonvisual Communication
One of the most common love/hate features of video is watching ourselves. But for people with Parkinson's, seeing yourself allows you to practice good eye contact and serves a reminder to look at the camera when others are speaking. Use video to prompt yourself to smile, especially if you have decreased facial expression or a softer voice. When you're smiling, you are creating deeper human connections.
Use hand gestures to reinforce what you're saying. Show your personality by giving a thumbs up or applauding a friend or colleague.
Sometimes, video calls are scheduled when you're tired, experiencing bothersome upper body or head movement, or your medication is otherwise just not working well. In these instances, don't be shy about turning off your camera. (Or, if it's a social catch-up, rescheduling for a better time.) Your friends and family will certainly understand, and this is an acceptable practice when working from home. When you do turn off your camera, have a photo on your screensaver, and use your voice or the Chat feature to keep the conversation going.
Video Tip #2: Curate How You Sound
Factor in the Environment
Before discussing how you sound, let's factor in the environment. Taking into account others working from home, children learning remotely and pets wandering around, find a quiet space to minimize distractions and background noise. If possible, keep kids and pets in another room. Choose a room with carpeting, drapes and furniture as these absorb sound and dampen outside noise. If there is a heater or air conditioner in the room, position it as far from your microphone as possible. When choosing a place for your computer, avoid locations where a window is behind your screen. Bright light from a window makes it difficult for others to see face and mouth as you are speaking.
If you have a soft voice, use headphones or a speech amplification device to augment your voice. It is easier to focus on what you want to say when you don't have to focus on how loudly you are speaking. If you do speak softly, take advantage of the nonverbal cues offered on video platforms. In the Zoom or Microsoft Teams Chat feature, you can use the emojis in the Reaction tab to express emotion and add to the conversation. Similarly, use hand gestures to underscore the points you are making. Smiling keeps you engaged in the conversation.
For those working with a speech therapist, role play on video to learn which techniques work best. For those not working with a speech therapist, ask a close friend or family member for their feedback so you can focus your effort.
If using video for work meetings, practice asking questions to prompt others to use the talk time. You can use the Chat feature to register your comments or use the raise your hand function to break into the conversation.
Video Tip #3: Curate How You Connect
Communicating over video takes a lot of effort. Zoom fatigue is real. Audio delays and the physical separation of a screen force us to work hard to connect. To avoid Zoom fatigue, self-care is critical. When possible, limit video calls to 30-minutes. Try to schedule video calls with work and friends when you feel rested and when medication is working to full effect.
Designate separate spaces for your social and work calls. This has two benefits. Changing your environment helps you mentally switch gears between work and social life. Taking calls in separate spaces gets you up and moving throughout the day.
When working and socializing from home, plan your day to take a short nap (not too late in the day so it doesn't interfere with nighttime sleep) so you stay energized. If a nap isn't possible, stagger video calls with phone calls, texts or conversations on platforms like Slack. If you participate in online exercise classes, choose one that corresponds with a time when your energy level is high. If you are on a long call with colleagues at work, it is acceptable to turn off your video and take a few minutes to recharge.
When you're not on video, stand up and move around. (Consider even taking a meeting while walking around the block, for example, if you can actively listen and aren't presenting.) It can be very easy to sit for hours in front of a screen. Use your phone or kitchen timer to remind yourself to get up and stretch or move every 60 to 90 minutes. This gets blood flowing and increases energy.
Curating how you look, sound and connect over video will make using technology more pleasant and productive. Video will never replace the deep connection of an in-person experience, yet it offers a way to stay in touch with those we love and to be productive at work - all without leaving the house!
For more from Marti Fischer, read her tips for working from home during the pandemic, check out MJFF's guides on sharing your diagnosis and talking about Parkinson's at work or visit her website.