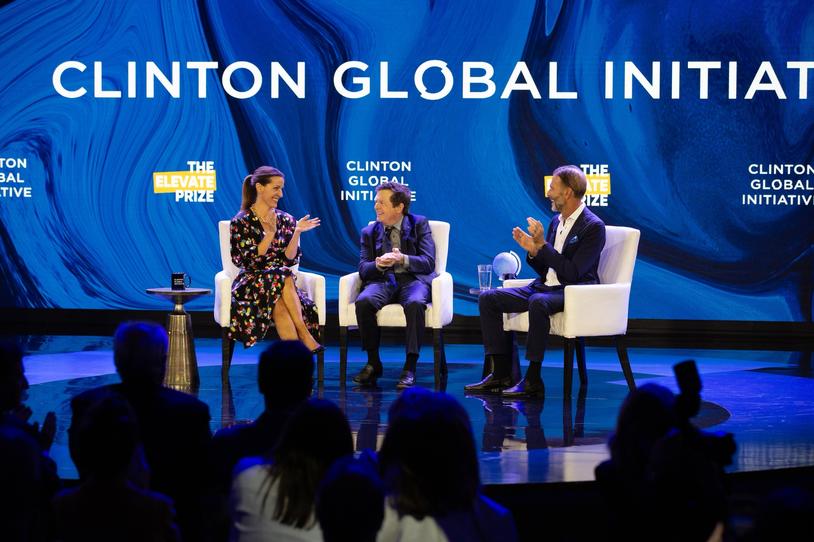 "You have taught us how to lead with innovation, humility and love. And, how to take an unexpected obstacle and transform it into a legacy of inspiration and collective triumph. Perhaps, most of all, you have given us hope. And for that, we are forever grateful," said Elevate Prize Foundation CEO Carolina García Jayaram in a powerful introduction of our intrepid founder Michael J. Fox as the 2023 Elevate Prize Catalyst Award winner.
The award, recognizing prominent individuals who use their influence to inspire social action, was conferred at the 2023 Clinton Global Initiative Meeting stage on Tuesday, September 19, in New York City.
"Through your commitment, you have galvanized a global community of co-conspirators — remarkable scientists, patients, physicians and supporters. Your foundation has funded nearly $2 Billion dollars in medical research. And just this year, made a groundbreaking discovery that has opened the floodgates for expedited treatments, a potential cure for Parkinson's disease, and greater understanding across all neurological diseases. You are a role model for all of us," shared Elevate Prize Foundation Founder Joseph Deitch before presenting Michael J. Fox with the statuette.
Recognized for his boundless optimism and tireless advocacy efforts through The Michael J. Fox Foundation (MJFF) for the millions of people and families living with Parkinson's disease, Michael received a standing ovation from the crowd.
"It means the world to have the Foundation's achievements recognized," said Michael J. Fox. "I accept the Catalyst Award on behalf of the community pushing our mission forward: the people and families living with PD, and the researchers and clinicians on the front lines of the search for a cure. Seeing the progress we've made together and the lives we've touched through the Foundation has been one of the greatest privileges of my life."
With the Elevate Prize Catalyst Award, The Michael J. Fox Foundation will receive $250,000 in unrestricted funding. The Foundation is committed to applying the funds to further its work in developing the first biological staging system for PD — the next critical step in making Parkinson's drug development smarter, better and faster.
Immediately following the award conferral, Michael J. Fox and MJFF's Co-Founder and CEO Debi Brooks joined former Secretary of State Hillary Clinton onstage to discuss the Foundation's work.
In true Michael fashion, even when recognizing life's obstacles, he remains more optimistic and determined than ever to put a spotlight on recent scientific breakthroughs and possibilities in the Parkinson's pipeline of therapies. Discussing the Foundation's purity of motive in getting better treatments and a cure to people and families, Michael shared:
"It's a responsibility and an opportunity and a privilege. We all have to move the ball forward, whether it's in world peace or whether it's in climate change or whether it's disease cure and prevention. We are very grateful of the fact that we can get together and do this."
Please join us in sending our sincere congratulations to Michael on this latest honor! Watch below to see Michael's Elevate Prize Catalyst Award recognition and time onstage at the 2023 Clinton Global Initiative Meeting.