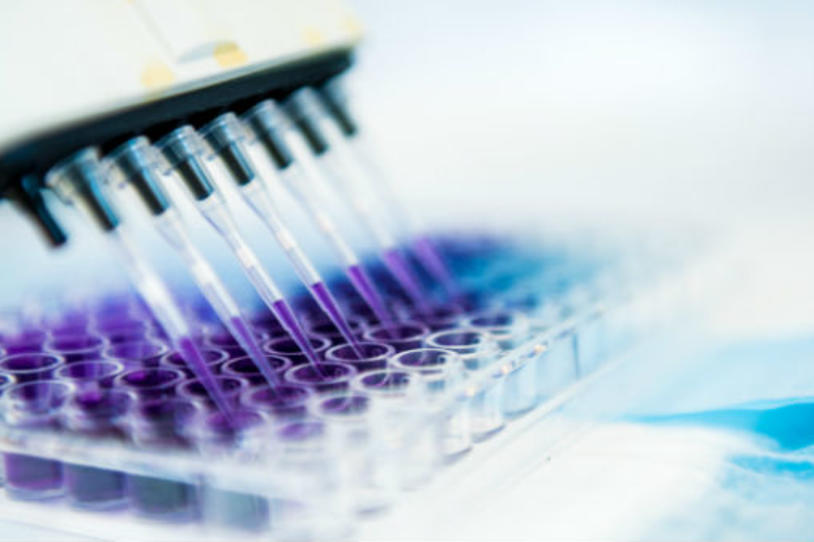 The cellular processes that keep us alive and healthy require thousands of microscopic players — proteins and enzymes and other workers on the line to tweak this, add that and keep us breathing and moving. Medical researchers try to name those workers and plot that line so that when something goes wrong, they know who may be involved and where they can intervene to fix the process.
Today a group of researchers led and funded by The Michael J. Fox Foundation (MJFF) have connected the dots between one of the most well-known workers in Parkinson's disease (PD), the LRRK2 protein, and another set of proteins called Rabs.
Investigators from MJFF, the Max Planck Institute of Biochemistry in Germany, the University of Dundee in the United Kingdom, GlaxoSmithKline and Merck & Co., Inc. published a paper today detailing that connection in the online, open-source journal eLife. The team discovered that LRRK2 regulates cellular trafficking (moving cellular parts around and into/out of the cell) by deactivating certain Rab proteins.
"Identification of Rab proteins as a LRRK2 substrate presents a tool to measure the impact of drugs in testing. This critical component will advance development of these therapies to slow or stop Parkinson's disease, patients' greatest unmet need," said Marco Baptista, PhD, MJFF senior associate director of Research Programs.
Mutations in the LRRK2 gene are the greatest known genetic contributor to Parkinson's disease, accounting for one to two percent of all cases of PD and more in certain groups such as those of Ashkenazi-Jewish decent. Pharmaceutical companies are developing drugs against LRRK2 to correct the effects of those mutations and treat PD. While especially promising for people with a LRRK2 mutation, there is potential that such a treatment would help people without that genetic link, as well.
This connection of LRRK2 to Rabs is an important step for Parkinson's drug development for three reasons:
It tells us more about LRRK2 biology and opens new roads to research. With this dot connected, we can look for other players that may be impacted by Parkinson's dysfunction.
It gives us another thing to measure. LRRK2 has a low activity level, so measuring its action and the impact of drugs has been difficult. Rabs can act as a secondary measure to see if a drug against LRRK2 is having an effect on correcting the cellular process.
It points us to a potential new drug target. If LRRK2 dysfunction then leads to Rab dysfunction, we may be able to target Rabs to correct that problem and stop Parkinson's disease.
"The pathological cascade leading to brain diseases such as Parkinson's likely includes many cellular players," said Matthias Mann, PhD, director of the Department of Proteomics and Signal Transduction at the Max Planck Institute of Biochemistry. "The identification of this LRRK2 substrate gives us a central piece in this puzzle and another potential place to intervene in the disease process."
One of the key roles of our Foundation in the Parkinson's research field is to unite all-star teams like this to problem solve around priority drug targets such as LRRK2. The consortium used a combination of tools developed by the partners — pre-clinical models from MJFF and GlaxoSmithKline (GSK) and drug candidates from GSK and Merck — and expertise in state-of-the-art technologies such as mass spectrometry, an analytic chemistry technique.  These tools, and the collaborative spirit that united the partners, were necessary to make this finding.
"This unique model of collaboration and our systematic approach across laboratories using advanced technologies and layers of confirmation provide a firm foundation from which to continue this line of investigation and further refine our understanding of the LRRK2 Rab relationship," said Dario Alessi, PhD, director of the Protein Phosphorylation and Ubiquitylation Unit at the University of Dundee.
With additional MJFF funding, this group now is working to further characterize the Rab proteins modified by LRRK2 and to understand how an imbalance in cellular trafficking leads to the degeneration of neurons seen in Parkinson's disease.
Interested in Parkinson's genetics research? Take this survey to see if you may be eligible for the Parkinson's Progression Markers Initiative, an MJFF-sponsored study that seeks to better understand the genetics of PD.