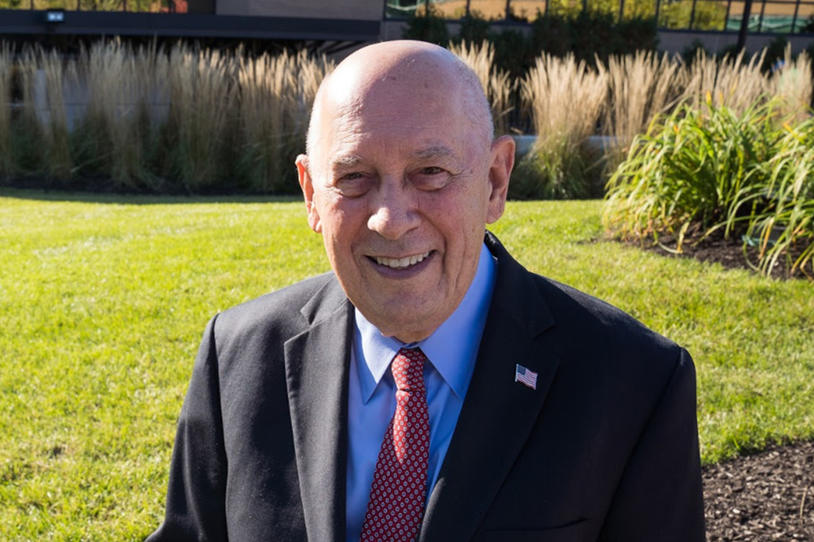 Bill Rasmussen is the storied founder of ESPN — the world's first 24-hour, 7-days-a-week sports television network — who ushered in a new era of broadcast sports news and coverage. The "Father of Cable Sports," Bill's legacy forever changed how we watch our favorite teams on television. Today, he's channeling his optimism, tenacity and discipline to take the field with a new team: as an ambassador to The Michael J. Fox Foundation (MJFF), helping to champion early engagement for people with Parkinson's.
Diagnosed in 2014 at age 81, Bill has taken on his Parkinson's disease (PD) with his signature positive attitude and commitment to staying active, embracing engagement and inspiring others, one person at a time. He will sit on MJFF's Patient Council — a 35-member body of individuals living with PD who guide and counsel the Foundation to ensure our work is fortified by the patient voice.
"Whether Parkinson's-related or not, the obstacles in my life won't stop — and I won't let them stop me," said Bill. "I make workarounds to address the disease and I accept it for what it is. I still enjoy meeting new people. And I continue to be grateful that I can share my story. I hope my life story can help more people — even just one more person."
As a Foundation ambassador, Bill will speak to Parkinson's patients and families about the invaluable contribution they can make by participating in research studies, especially in the first days and months after a diagnosis with PD. By telling his own story of Parkinson's diagnosis and engagement in the community, he hopes to quarterback an effort to find, educate, encourage and recruit newly diagnosed patients in research studies during their critical earliest stages of disease.
"The first few months and years following a Parkinson's diagnosis can be overwhelming," said Rachel Dolhun, MD, vice president of medical communications at MJFF. "Few people think about participating in clinical trials during this time. But people in this fleeting window are in a unique position to contribute to research and help scientists capture the full continuum of Parkinson's. We are thrilled to have Bill as an ally in sharing this story and helping increase the flow of critically needed newly diagnosed individuals into Parkinson's research."
Mr. Rasmussen's collaboration with the Foundation is made possible by leadership funding from ESPN.
Read more about Bill and other members of our Patient Council in the Foundation's new resource, "If I Knew Then What I Know Now: The Michael J. Fox Foundation Patient Council's Guide for People Newly Diagnosed with Parkinson's Disease." And listen on demand as Bill and other experts share their viewpoints on navigating a PD diagnosis in our latest Third Thursdays Webinar.