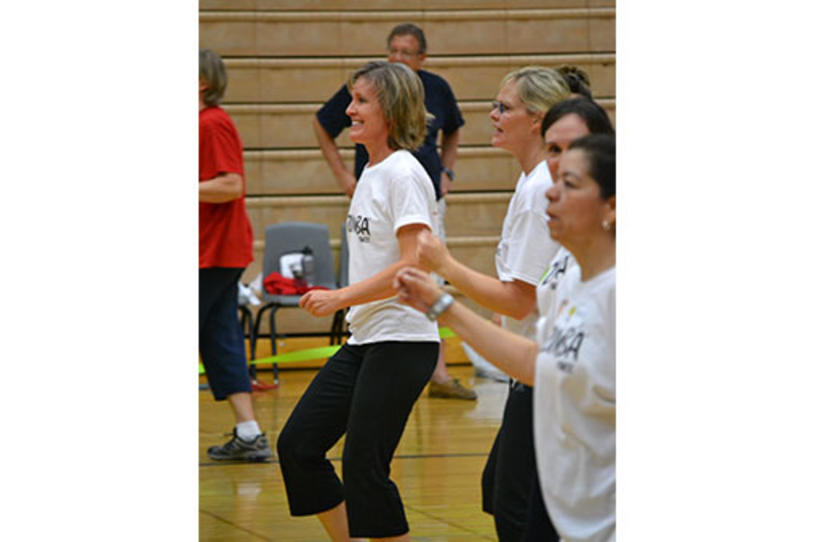 Earlier this year, Team Fox member Kistie Sharp hosted her first fundraiser, a Zumbathon in Tucson, Arizona. Kistie teamed up with Zumba fitness instructors Lupita Gonzalez and Cynthia Bustamante and raised more than $2,000 for Parkinson's research—all of which will be matched by The Brin Wojcicki Challenge.
After Kistie was diagnosed with Parkinson's disease, she knew she wanted to get involved in the search for a cure. First, she enrolled in the Parkinson's Progression Markers Initiative (PPMI), The Michael J. Fox Foundation's landmark clinical study to identify biomarkers of Parkinson's disease. Soon after, she joined Team Fox to raise funds on behalf of the Foundation.
We caught up with Kistie to see what she learned in throwing her first event. First time fundraisers take note—Kistie offers advice on giving yourself time to organize an event and keeping your costs low.
Team Fox: This was your first Team Fox event. How did it live up to your expectations?
Kistie Sharp: Yes, it was my first Team Fox event.  Not having organized a fund-raiser before I really didn't know what to expect except that we wanted to make the event as fun as possible, raise awareness of Parkinson's disease, and raise as much money as we could for the first time. As far as achieving our goals I think we were able to accomplish them. The Zumbathon was a success, people learned lots about Parkinson's disease and the Michael J. Fox Foundation. I would have liked to earn even more money for Team Fox, but knowing that every penny counts keeps me feeling optimistic!
TF: What was the easiest part of the planning process? The most difficult?
KS: Coming up with the idea of doing a Zumbathon for Parkinson's was by far the easiest part of the planning process! The most difficult was carving time out of my already busy schedule to pull it all together.
TF: If you could do one thing differently, what would it be?
KS: I would actually do two things differently. One, I would have lowered my costs to host the event.  Second, I could have charged more for our tickets sales.  Implementing both of these changes would have allowed me to raise more money.
TF: How much did you end up fundraising? Did you implement any fundraising or outreach strategies to get the word out about your event?
KS: We ended up raising over $2,000. We were able to get the event information out in our newspaper two different times as well as on a morning TV show. Most outreach strategies came by word of mouth. Of course having MJFF post it on their social media sites helped out as well.
TF: Anything else you'd like to share?
KS: Team Fox was amazing at helping me through this whole process. I learned a lot and had a lot of fun planning my first ever fundraiser for Team Fox!