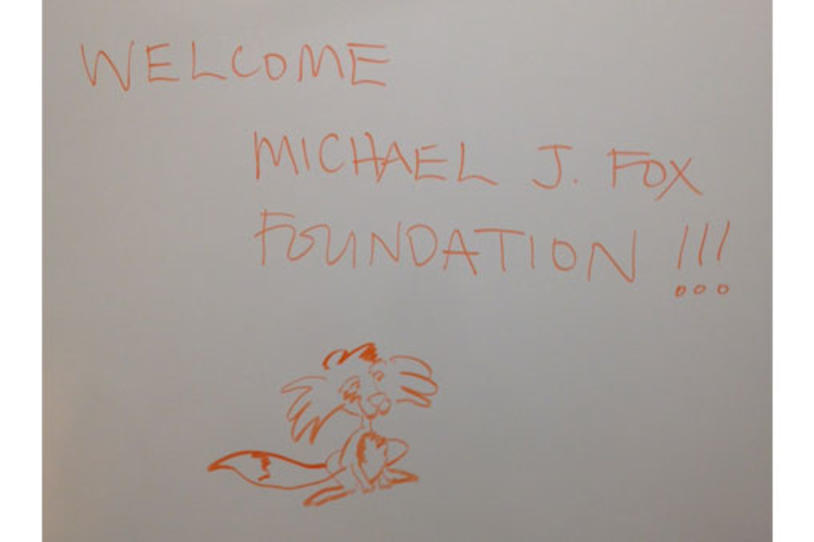 To help scientists stay on target, and to help patients in the long run, The Michael J. Fox Foundation has earned a reputation for staying connected to research partners. Yesterday, a few members of the Foundation, including Michael J. Fox, stopped by to visit one: personal genetics company 23andMe, based in Mountain View, California.

Back in March 2009, MJFF, together with 23andMe, announced a call for 10,000 people with Parkinson's disease to join an ambitious new research community. The goal of the community is to empower individuals with PD to proactively impact research in real time. By contributing their DNA, these volunteers are helping researchers better understand the role of genetics in PD—which could lead to improved treatments for all patients. As we reported in a post yesterday, since then 7,500 people with Parkinson's have stepped up and 10 new genetic variants related to PD have been found. All it took for patients was a little spit, some time to complete online surveys about their experience with PD, and the courage to learn more about their own genetic make-up—all in the quest for a cure.

During their visit, Fox, along with MJFF's CEO Todd Sherer, PhD, and Co-Founder and Executive Vice Chairman Debi Brooks, sat down with 23andMe's Co-Founder Anne Wojcicki and Research Development Manager Emily Drabant, PhD. Together they delved into the PD Research Community's latest results, brainstorming on how the two organizations could collaborate to leverage these new findings.

23andMe's staff also had a chance to chat with Fox and get to know him personally, when he joined them for an informal Q&A session. A few of the highlights are below.
What advice would you give to someone who learned they had an elevated risk of getting Parkinson's?
Don't watch and wait for the pot to boil. You have to live your life as it is and not what you think it is.
You inspire so many people in more ways than one. Who inspires you and why?
Gandhi, Martin Luther King and Nelson Mandela are mega-heroes because they respond to negativity and negative situations with optimism. But on a daily basis the PD and scientific communities inspire me. You all inspire me.
You are known as an actor, an activist, a husband and father, a writer—how do you define yourself? What else makes you you?
I'm a happy traveler. I believe there's more good than bad in the world. We have opportunities to make this world better for the next generation and lifetime. We're here to create a legacy.
Were you always interested in science?
I had an interest in process. That carries into the work we're doing now. We're studying the process.
What excites you about the Fox Foundation's partnership with 23andMe?
This is a crucial part of solving the problem and I'm happy to be a part of it.
In closing, Fox shared: "I really mean what I say when I express optimism. I don't have many dark moments. I know many people with PD do deal with depression, so I know I lead a rarified life."
If you have PD, you are entitled to a free lifetime membership to 23andMe, and will receive detailed, personalized reports indefinitely through the 23andMe Personal Genome Service™. You can also share your experiences directly with others in the online community.

Along with genetic testing, to learn what other clinical trials for which you might be eligible, create a profile at Fox Trial Finder, the Foundation's clinical trial matching tool. And if you know your genetic status, be sure to answer the question about genetic testing.