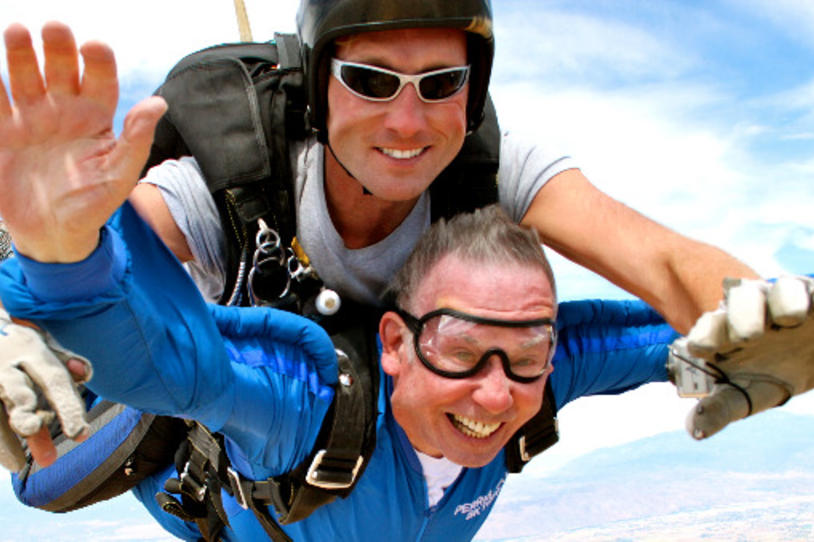 Terry Weinberger, of San Diego, California, met her late husband, Brent, over 40 years ago. At the time, she was an assistant in the office of his medical practice, where he was a podiatric surgeon. "He treated patients regardless if they could pay," says Terry. "What he saw first was a person who was in pain and scared. That was always his first diagnosis."
The couple soon married and devoted the next 25 years to working together in Brent's practice. They traveled extensively — dogsledding in Montana, bridge jumping in New Zealand, safari in East Africa and backpacking in Nepal. "What a ride we had," says Terry. "He constantly pushed me to try new things. He had such an adventurous spirit."
While Brent was a lifelong "health nut," says Terry, who exercised daily, troublesome symptoms began to appear not long after retirement in 1995. It took years to accurately diagnose his Parkinson's. Nonetheless, he maintained an active lifestyle, and the Weinbergers continued their travels.
At 76, in the final year of his life, Brent went skydiving for the first time. It was one of the last items on his bucket list, says Terry, and he mustered up every ounce of energy he had left to do it. "He said it was the most fun thing he'd done in five years. I think he appreciated the sense of being in control again."
Although Brent always joked he planned to live forever, at a certain point, he realized the situation had shifted. That's when the Weinbergers began thinking about the road ahead — and their estate plans.
Terry says, "He told me if we could do something to help other people in the future, that's the legacy we want to leave." As a physician, he was fascinated by finding a cure for his disease. He did much of his own research and closely followed the progress of The Michael J. Fox Foundation. In 2009, the couple made their first gift to the Foundation. Supporters of many causes each year, "We felt it was better to give away what you had than to spend it  on ourselves," Terry says.
With no children, the Weinbergers were able to invest a substantial portion of their estate in their hope for a cure for PD. They established a $1-million charitable gift fund to benefit MJFF, which went into effect in 2012. Each year throughout the life of the fund, the Foundation receives $100,000, and Terry receives an annuity payment. "Brent never complained about his Parkinson's, but he didn't want anyone else to suffer," Terry says.
Just before Brent passed away in October 2011, "He told me he'd had a wonderful life," says Terry. "He would miss only two things: watching the sunset from our deck, and me."
"Ours was an adventure until the very end," she says. And she is keeping up this spirit on her own. She joined a local travel club and spends more time with friends. To keep her company, she recently got a new puppy, named Zack. She also is learning to take better care of herself, after being a caregiver for many years. "Before he died, Brent gave me a list of things to do," she says. "Being happy was one of them. I'm trying to keep my promise to him."
To learn more about estate planning to benefit The Michael J. Fox Foundation, please call (800) 708-7644.