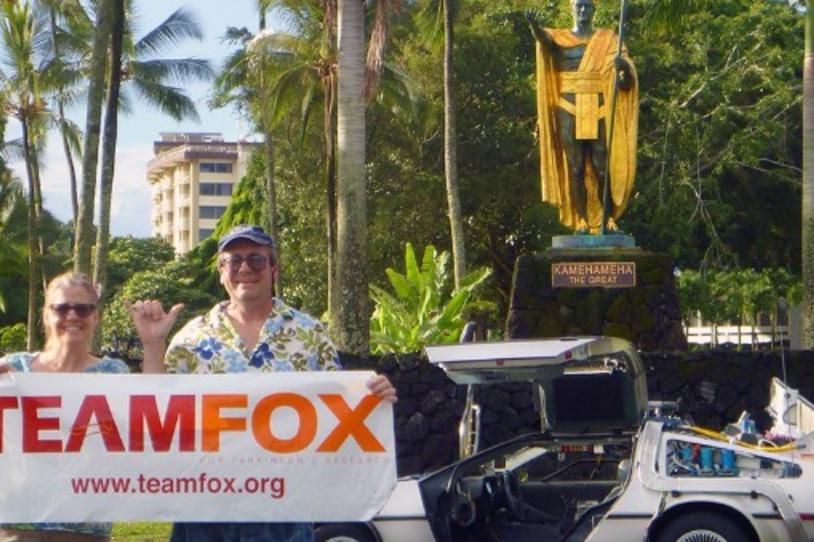 For the last seven years, Team Fox members Oliver and Terry Holler have travelled the country (and the world!) raising awareness and funds for The Michael J. Fox Foundation. And they've done so in true Marty McFly fashion—driving their custom built replica DeLorean!
With a mission dubbed To The Future, A Drive to Cure Parkinson's, the Hollers set an ambitious goal for themselves in 2006: 'time travel' to all 50 states while raising as much money and awareness in support of a cure for Parkinson's as they could. Well, seven years, thousands of miles, and nearly $250,000 later, the Hollers have arrived at their final destination. Aloha, Hawaii!
While the Hollers have officially completed their grand tour of the US, their efforts aren't complete just yet. With 2015—the year that Marty McFly first time travels to in Back to The Future—just around the corner, the Hollers already have a long list of appearances scheduled for next year. And while Oliver has also begun to write a book detailing their many adventures and travels around the country, for now, this second phase of To the Future starts with a well-deserved vacation alongside the beautiful waters of Oahu!
To learn more about To The Future, A Drive to Cure Parkinson's, visit ToTheFuture.org. To join us in celebrating the Hollers incredible accomplishment, consider making a donation directly to their efforts.