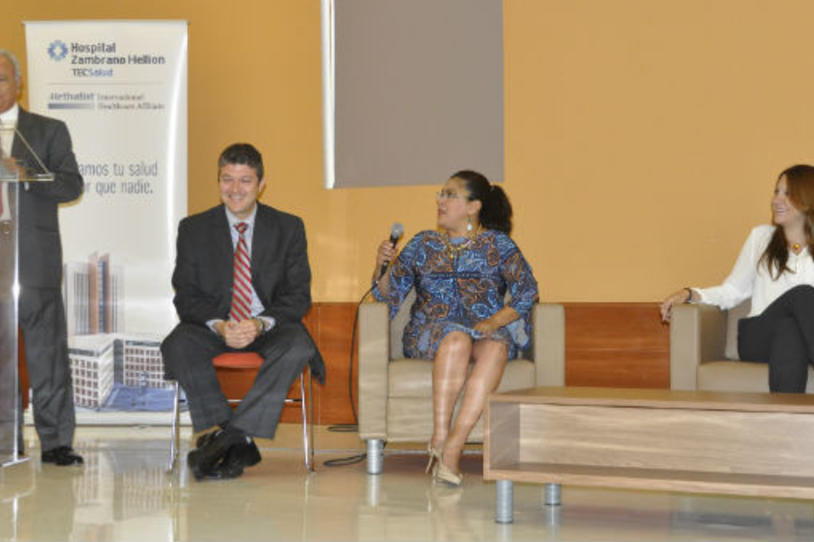 Claudia Revilla is an avid Fox Trial Finder Ambassador and Team Fox Member living in Peoria, IL. While visiting family, she had the idea to broaden the reach of her outreach efforts by hosting an educational event for the Parkinson's disease (PD) community in Monterrey, Mexico. 
The event was held on August 9 at the Hospital Zambrano Hellion in Monterrey and drew a large crowd of 126 guests. 
"I am very happy I did this," Claudia said. "Meeting all these incredible people afflicted with PD and a very welcoming and inviting research center only proves that everyone is getting involved in the same battle, that the need is there and they are willing to step in."
The event program included several PD doctors and investigators working in Mexico, each sharing their research projects and opportunities to get involved. Dr. Hector Martinez led a panel on participating in clinical trials.  And Claudia, highlighted as a Fox Trial Finder Ambassador, shared from the patient perspective the importance of participating in research and her personal story of getting involved through Fox Trial Finder.
"Providing information on how to participate in research is imperative to the search for a cure," explains Claudia.
In addition to the families in attendance that day, local media also featured the event and promoted Fox Trial Finder as a way to connect with research opportunities locally and around the world.
Interested in hosting your own event or helping to spread the word in your community? Click here to learn more about the Fox Trial Finder Ambassador program and download materials.